Most of us have now plenty of time to take some "me time" and enjoy a long bubble bath, read a good book, work out, or perhaps just contemplate the works of our favorite artists. However, if the last one is your choice I would recommend adding some fun mixed drinks. Here is my list of cocktails inspired by art for artsy drinking.
Red Velvet Martini & Black Square and Red Square
Since there are many interpretations of Kazimir Malevich's work Black Square and Red Square, let's just focus on moving in that picture. The black square is static and heavy and on the other side is the red, fast-moving square. It's like a combination of sweet cream and vodka in the Red Velvet Martini.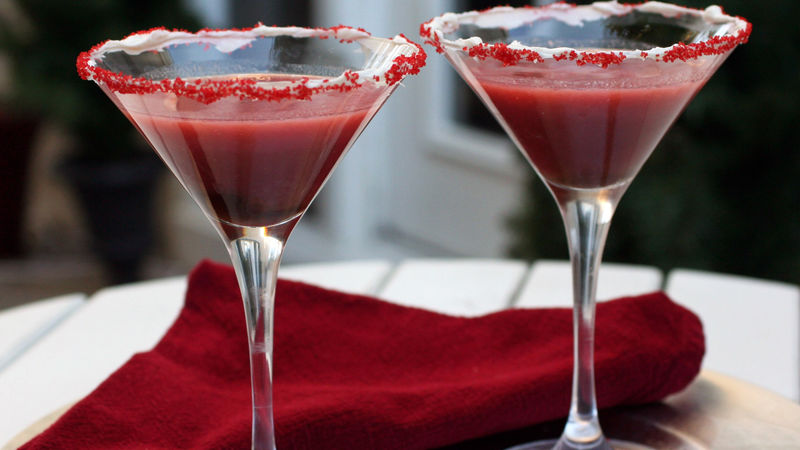 In fact, the Red Velvet Martini is a perfect Valentine's day cocktail, but why not make one for yourself. Put one teaspoon chocolate syrup at the bottom of a glass. Refrigerate. Fill a cocktail shaker with ice, add 1 oz cake-flavored vodka, 1 oz crème de cacao, 3 tablespoons buttermilk, and 1- 2 drops red food color to the shaker. Shake well and strain into your chilled glass.
Cosmopolitan & Portrait of Mrs Boucard
There is no more elegant display of an established city woman than that of Tamara de Lempicka's women. Further, what does an elegant madame like Mrs Boucard miss in this portrait? A Cosmopolitan!
Here is a recipe for how to make a "Cosmo" for yourself at home. Add 1 1/2 oz citrus vodka, 1 oz Cointreau, 1/2 oz fresh lime juice, 1 dash cranberry juice with ice to a shaker. Shake! Strain into a chilled cocktail glass and garnish with a lime wheel.
Aperol Spritz & Oriental Poppies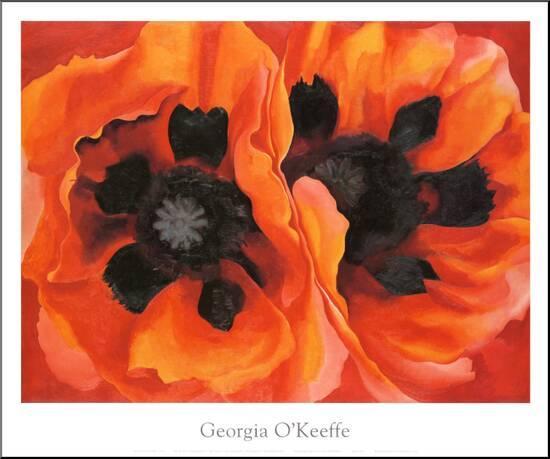 If you are keen on dipping yourself into intense colors and shapes you should look up Georgia O'Keeffe. Her mesmerizing flowers are perfect contemplation material. Especially the oriental poppies with their intense orange and red transitions. The perfect drink to have with them is definitely the Aperol Spritz.
The Aperol Spritz is one of the most popular Italian aperitifs. Add 3 oz prosecco, 2 oz Aperol, and 1 oz soda water to a wine glass with ice, and stir. Garnish with an orange wheel and enjoy.
Tequila Sunrise & Orange and Yellow
If you're not a fan of big flowers, maybe Mark Rothko's large scale monochrome surfaces are a better choice for you. For example, the Orange and Yellow for welcoming the Summer. You could make yourself a Tequila Sunrise to enjoy this work in better company.
The Tequila Sunrise is a slightly more complicate cocktail to make. Take a chilled highball glass. First, add 2 oz Blanco tequila, next add 4 oz fresh orange juice, finally float 1/4 oz Grenadine on the top. Garnish with an orange slice and a cherry.
Zombie Cocktail & Nafea Faa Ipoipo
Besides, if you're more fond of far off exotic lands with Edenic nature and primitive tribes then is Paul Gauguin your perfect companion. Travel to Tahiti with him and taste those far away places by preparing yourself a Zombie cocktail.
The Zombie Cocktail is a tiki cocktail. Pour 1 oz dark rum, 1 oz white rum, 2 oz lime juice, and 6 oz pineapple juice into a shaker filled with ice. Shake hard. Strain the mixture into a tall glass with ice. Slowly pour 1 tbsp grenadine to color the drink. Garnish with mint sprigs and fruit.
Death in the Afternoon & Portrait of Vincent van Gogh
What would be an artsy cocktail list without Absinthe? And who is more familiar with that magic drink then Henri de Toulouse-Lautrec? Obviously Vincent van Gogh.
If you have Absinthe at home, try pouring 1 1/2 oz of it into a coupe glass and add 4 1/2 oz Champagne. It is called Death in the Afternoon and was invented by Ernest Hemingway. Enjoy!
Mojito & Self-Portrait with Monkey
Frida Kahlo depicts herself in many of her self-portraits in front of green leaves. Those pictures, like the Self-Portrait with Monkey, have a very muggy atmosphere. They cause a thirst for something fresh and minty like the Mojito.
The Mojito is my favorite cocktail. Muddle three mint leaves in a shaker. Add 2 oz white rum, 3/4 oz fresh lime juice, 1/2 oz Simple syrup and ice and shake. Strain into a highball glass over fresh ice. Add a dash of club soda. Garnish with mint leaves and lime wheel.
Cuba Libre & Types and Customs of the Island of Cuba
Victor Patricio de Landaluze was practicing costumbrismo in the 19th century, depicting Cuba peasants, landowners, and slaves. In his works, he is doing a great job documenting life in Cuba. For example, we have a depiction of traditional customs here. I would recommend to grab a Cuba Libre and explore his other works.
Cuba Libre is probably the easiest tasty cocktail to make. Add 1 oz rum and 3 oz Coca-Cola to a highball glass filled with ice. Garnish with a lime wedge.
Bourbon Old Fashioned & Nighthawks
Edward Hopper's silent and melancholic scenes are maybe not the best you can choose nowadays. However, they suit someone people's personal taste. I would recommend grabbing a Bourbon Old Fashioned to enjoy Hopper's works fully.
First, add 1 tsp sugar, then 3 dashes Angostura bitters, and 1 tsp water into a rocks glass. Stir it until the sugar is almost dissolved. Fill the glass with large ice cubes, add 2 oz bourbon, and gently stir. Express the oil of an orange peel over the glass, and drop it.
Diamond Blue Cocktail & Balloon Dogs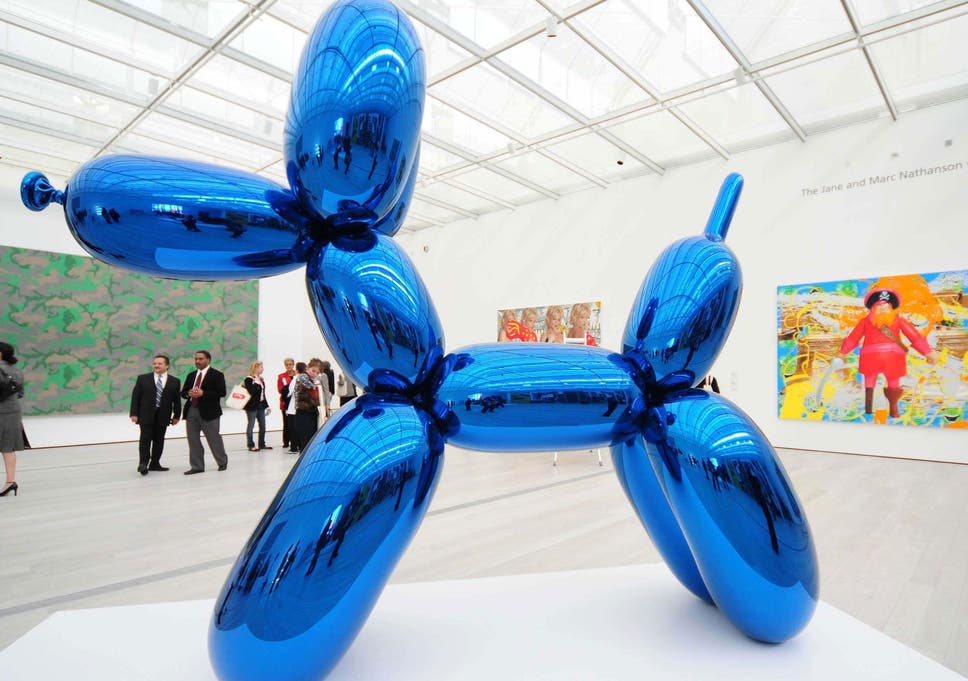 Jeff Koons Balloon Dogs are the most fun thing to look at. They are like a child's dream (or nightmare) come true. Just add some unicorns and cotton candy. And grab a Diamond Blue to enjoy watching with.
The Diamond Blue is delicious. Add 3/4 oz Hendrick's Gin, 3/4 oz crème de violette, and 1/4 oz Blue curaçao to a mixing glass. Squeeze a lemon wedge into the glass. Fill with ice, stir, and strain into a Champagne flute. Top with the 3 oz Champagne and garnish with a light dusting of edible silver powder.
The post 10 Cocktails Inspired by Art for Artsy Drinking appeared first on DailyArtMagazine.com - Art History Stories.
---
10 Cocktails Inspired by Art for Artsy Drinking
was first posted on June 12, 2020 at 5:00 pm.
©2017 "
DailyArtDaily.com - Art History Stories
". Use of this feed is for personal non-commercial use only. If you are not reading this article in your feed reader, then the site is guilty of copyright infringement. Please contact me at rafalkw@gmail.com