Informed Collector Recommends:
J.M. Brodrick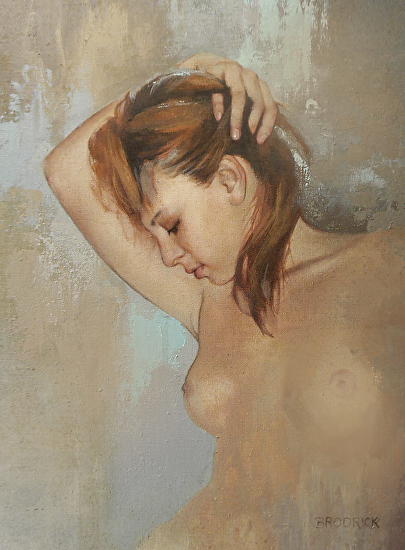 Acrylic 20 x 16
Morning Pose by J.M. Brodrick was selected as a Finalist in the July 2019 BoldBrush Painting Competition.
Biography
"I am a painter working towards merging my need for realism with the beauty of pure abstract. " - J.M. Brodrick
Brodrick's paintings include a wide range of themes from the beauty of old growth forests to city scenes, birds, animals and people. Her works are described as serene and peaceful but can include both drama and poetic tenderness along with a unique softness and graceful sense of beauty. Her use of colors laid over each other result in hues that seem to glow from within, playing one color off the other in harmony much as a composer would use combinations of notes to form a symphony. Brodrick studied painting in her youth and received her first scholarship at the age of 13. Her grandmother, who was a professional artist from Helsinki Finland, guided her love of the arts. She grew up in a working artist environment. "My Grandmother helped me connect with other artists and shaped me at an early age to express myself with painting" says Brodrick. In the 1977 she moved to Fairbanks Alaska where the rugged lifestyle and freedom of the open country inspired her to further develop her artistic talents. Brodrick now lives in Oregon and is surrounded by the beauty of the Pacific Northwest.
Education
Independent studies with:
Sandra Tischnor, University of Michigan, Ann Arbor Michigan
Franklin Jones, Stockbridge, Massachusetts
Nita Engle, Traverse City, Michigan
Anita Peterson, Helsinki, Finland
Permant Collections
Atlantic Richfield Corporation - San Francisco, California
The Embassy of the Russian Federation in Washington D.C.
The State of Alaska - Fairbanks, Alaska
Global National Health Hospital, Tokyo - Japan
Favell Museum - Klamath Falls, Oregon
Numerous Private Collections
Publications
2019
Acrylic Work 6! Artist Network Book Publication
2018
American Art Collector Magazine "Art of the Figure" Editorial for December Issue
Artsy Shark - Featured Artist June 2018
American Art Collector Magazine "The Art of the Horse" Featured Artist May Issue
2017
American Art Collector Magazine, November - Editorial for "The Art of the Nude"
American Art Collector Magazine, May Editorial for "The Art of the Horse"
2015
Southwest Art Magazine - September Issue - "Artists to Watch"
Selected Awards and Exhibits
2019
Mountain Oyster Club "50th" Art Exhibition and Sale- Tucson, Arizona
Favell Museum - Contemporary Western Show and Sale - Kalamath Falls, Oregon
Bold Brush Painting Contest - Finalist -August Award for " Morning Pose"
Bold Brush Painting Contest - Outstanding Acrylic - August "Beauty and Grace"
Bold Brush Painting Contest - Second Place - May Award for "Misty Morning"
Bold Brush Painting Contest - Outstanding Acrylic - May Award for "Beauty and Grace"
RS Hanna Gallery Group Show , America Women Artists, Signature and Masters, Fredericksburg, Texas
Steamboat Art Museum, American Women Artist Group Juried Exhibition, Steamboat Springs, Colorado
Women Artist of the West - 49th National Exhibition Mountain Aire - Mary Williams Fine Arts, Boulder, Colorado
Women Artists of the West - Awarded Third Place for "Afternoon Conversation" in the Lazy Days of Summer Exhibit
My favorite Things - Cole Gallery, Edmonds, Washington
American Impressionist Society - Small Works Exhibition - Petosky, Michigan
2018
Bold Brush Painting Contest - "Outstanding Acrylic" award for "Tired Butterfly"
American Impressionist Society - 19 Annual Juried Exhibition - Peninsula School of Art, Wisconsin
National Oil and Acrylic Painters Society - Escoda Brush Company - Outstanding Achievement Award
Bold Brush Painting Contest - Outstanding Acrylic award for "The Pollock
Bold Brush Painting Contest - Finalist - March "Monday's Child"
Western Contemporary Art Exhibit - Favel Museum - Kalmath Falls, Oregon
Rockwell Museum (An Affiliate of the Smithsonian Institute - New York - American Women Artists Exhibition
2017
Bold Brush Painting Contest - Outstanding Acrylic - November "Beneath Thunder Mountain"
American Impressionist Society - 18 Annual National Juried Exhibition - Montgomery -Lee Fine Art - Park City, Utah
American Women Artists - Under a Vast Sky - Tucson Art Museum - Tucson, Arizona
Art in the West - High Desert Art Museum - Bend, Oregon
Artist Abroad - The Bennington Art Center - Bennington, Vermont
Brian Marki Fine Art Gallery - Solo Exhibition "The Art of the Nude" Palm Springs, California
Mountain Oyster Contemporary Art Exhibit and Sale - Tucson, Arizona
National Oil and Acrylic Painters Society -"Best of America" Ft. Wayne, Indiana
The Bennington Center The Laumeister Fine Art Competition" - Bennington, Vermont
The Bennington Center Wild and Nature Juried Exhibition -Bennington, Vermont
2016
Bold Brush Painting Contest - Outstanding Acrylic- July- Reincarnation of Lady Grey
Bold Bush Painting Contest - Finalist May - "Ellen"
Bold Brush Painting Contest - Outstanding Acrylic - April "New Day Coming"
The Art Muse Contest - Merit Award for outstanding work
Artist of the Month - March -First Place "The Jackson Pollock"
Mountain Oyster Club Exhibit of Western Art - Tucson, Arizona
American Women Painters Juried Exhibition - Bennington, Vermont
Best of America - National Oil & Acrylic Painters Society, Orleans, Maine
2015
Bold Brush Painting Contest - Outstanding Acrylic July "My Moment with Mona"
The Artist's Magazine 32nd Annual Art Finalist Portraits/Figures category
Bold Brush Painting Contest - Outstanding Acrylic March "Linda"
Bold Brush Painting Contest - Outstanding Acrylic "Girl at the Borough Market"
New Work - Lawrence Gallery - Sheridan, Oregon
Women Artists - National Juried Competition - Bonner David Galleries, Scottsdale, Arizona
Art in the West Traveling Show - Dallas, Texas
Brian Marki Gallery - Dramatic Fields, Quiet Pastures Exhibit - Portland, Oregon
2014
Bold Brush Painting Contest - Finalist - August 2014
Bold Brush Painting Contest Outstanding Acrylic "Morning Glory"
Raymar Painting Contest - Finalist August 2014 - "Morning Glory"
Solo Exhibit - Caswell Gallery - Troutdale, OregonArt in the Peal - Portland Fine Art Auction

Memberships
American Women Artist, Signature Member
Women Artists of the West, Member
National Oil & Acrylic Painters' Society, Member
National Portrait Society of America, Member
American Impressionist Society, Member
The Society Of Animal Artists, Member
Learn More About J.M. Brodrick