Informed Collector Recommends:
Elena Martino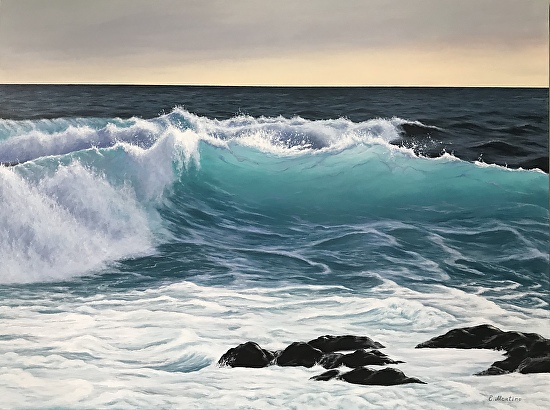 Acrylic 30 x 40
Timeless Rhythm by Elena Martino was awarded Outstanding Acrylic in the July 2019 BoldBrush Painting Competition.
Biography
Elena's natural artistic grace is no accident; it mirrors her disposition, sweet and true, which shines eloquently at the heart of each of her paintings. It is very willingness to share her vulnerability, coupled with her unyielding fidelity to her artistic vision, that sparks our intense, instantaneous identification with her beloved subject. Her love of animals and nature has always been a part of what inspires her work and her life. She chose to forgo animal products in 2004 and has remained vegetarian since. Elena always wanted to travel, but did not have the opportunity to travel until she moved to Houston Texas from Russia in 1998. She continues to reside in Houston today. Only then was she able to live out her dream of traveling to beautiful places in the USA and abroad. She saw things she had never seen before - oceans, waterfalls, canyons, and mountains. Elena's artworks captures the very essence of her travel experiences. She invites her viewers to share in her love of nature and the animal world.

As a child growing up in a small town in Russia, art has always been a big part of Elena's life. Elena was surrounded by majestic forest and wetland landscapes. She spent a lot of time adventuring outdoors, helping cultivate her early desires to create. She has always had a great passion for creativity. Elena took art classes throughout her school years. She was very fortunate to have an inspiring art teacher in school who taught her to experiment with colors, techniques, and to explore composition using watercolors and pencils. She was a top art student in her class and she won awards frequently for her artwork at school competitions. Her parents were very supportive of her passion for art and her father wanted her to proceed toward an art career after school but Elena took a different path for family reasons. She put her art on the back burner for many years due to study, working, and building a young family. She started drawing again with graphite pencils and then colored pencils in 2014. Thanks to social media, Elena began getting a lot of unsolicited commission work. Pet portraits of animals that have passed away have provided Elena with some of her most powerful emotional connections.


She says, "Drawing cats and dogs, for me, is always a labor of love because of the special place in our hearts that they inhabit. Trying to capture their personalities and the intricacies of their physical appearance is not only a fun challenge, but a lasting monument to the beautiful little souls that they are." This rekindled her love of art and began her insatiable need to catch up on all the art that she had missed out for so many years.

One of Elena's passions is helping animals. She is a member of the dachshunds rescue group and has a lot of friends who are in animal rescue. Some of her work was donated to benefit auctions to help the animals in need. She has done a lot of commission work for people and has collectors from all over the US. Currently she is working in 3 mediums: graphite pencil, colored pencil, and acrylic paints. Her paintings are distinctive for her use of color and her ability to "capture the moment" of her subject matter. Moved by the subjects that interest her, she strives for continuing excellence. Elena's work has evolved and continues to do so as she strives to learn new things every day. She also continues to take workshops whenever possible, classes on line, and watching tutorials.
Elena's work covers a wide variety of subjects; animals, birds, seascapes, and people. She works from her own reference photographs most of the time, which were taken by her on her various travels, and loves spending time outdoors exploring and photographing nature and animals.

Elena is a member of Colored Pencil Society of America (CPSA). Her artwork has been published in Colored Pencil Magazine and Ann Kullberg's Color Magazine in 2015. She was also one of the featured artists in Colored Pencil Cats and Dogs by Ann Kullberg published in 2015. Elena joined the VAA (Visual Art Alliance) which has given her the opportunity to get more deeply involved in the art community in her home town of Houston. She is a juried member of the International Guild of Realism. Currently she is a student at Xanadu Art Business Academy.
Elena says her goal is to build up a larger body of work, with hopes of future joint exhibitions and being included in more publications.
'When I stand before God at the end of my life I would hope that I would have not a single bit of talent left and could say,
"I used everything you gave me," - Erma Bombeck.
Artist Statement
Animals, nature, emotions, and connection; these are the things that drive my passion to create art. My work is about the emotional life of animals, the interconnection of all beings, and the unseen magic that surrounds us all.

As a traditional and representational artist, my goal is to create a high degree of realism, although quite often some of the shapes will take on abstract nature. My most basic desire is to capture on canvas the wonder and awe of God's creation within the scene's emotional impact.
I try to capture every single moment in my paintings and put a smile on someone else's face.

Hopefully the viewer is moved to appreciate the beauty of the natural world around them and at the same time make them feel like they were there.
Learn More About Elena Martino