Informed Collector Recommends:
Angus McEwan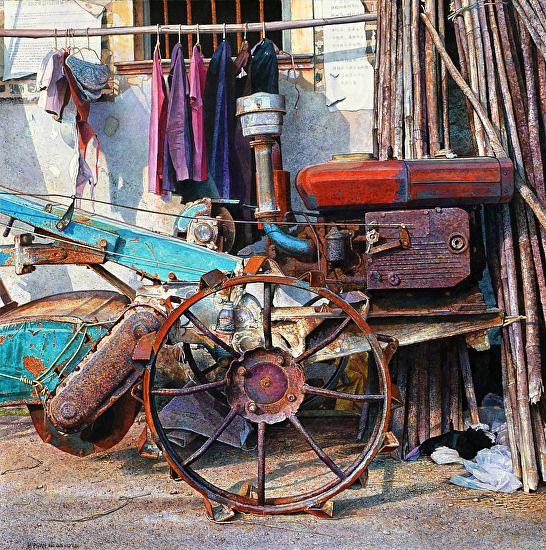 Watercolor 56cm x 57cm
Beating heart of China by Angus McEwan was awarded Outstanding Watercolor in the July 2019 BoldBrush Painting Competition.
Biography
Angus won second prize in the Sunday Times Watercolour Competition (2007) in London and the International Prize "Marche d'Acqua" Fabriano, Italy in 2012. In 2013, Angus won Bronze Award, at the Shenzhen International Watercolour Biennial, in China. In 2016 Angus was presented with the title of Honorary Citizen of Fabriano and awarded the Watercolour Enthusiasts award and the "People's Choice Award" in the San Diego International Watercolour Exhibition, USA. He was also presented with the Master World Watercolour artist 2016 Award, Thailand and the "Gallery A" award in the Watercolour International III, Thessaloniki, Greece.

Different galleries have displayed McEwan's works, including Ok Harris Gallery in New York and Quanhua Gallery, Shanghai and the Plus One Gallery, London. Recently highlighted in Shenzhen Biennale and the Qingdao Hall of Watercolor. He has exhibited in Fabriano, Italy in the "Marche d'Acqua" International Award, as special guest, and in Vicenza, Italy, where he had a solo show in the "Artbox". Angus also exhibited at the World Watermedia Exposition, Thailand and Myro Gallery, Greece.

Most recently Angus exhibited in the 3rd, 4th & 5th Silk Road International Arts Festival, Xian, China and the First International Master Watercolour Exhibition, Jimo, Qingdao, China 2016-18.

In 2017 Angus received an award at the San Diego Watercolour Society 37th International Exhibition receiving the signature members third place prize.

In 2018 Angus received a 3rd Place award at the ARC Salon Competition (the largest and most prestigious Competition in the Western world for realist Art) for landscape painting and an honourable mention in the still life category. His Painting "Shroud of Qingdao" will be exhibited in the "Salamagundi Club", New York City, Sotheby's in Los Angeles and the MEAM Museum in Barcelona, Spain. In August 2018 Angus was elected a member of the Australian Watercolour Institute.