Informed Collector Recommends:
Robert Akers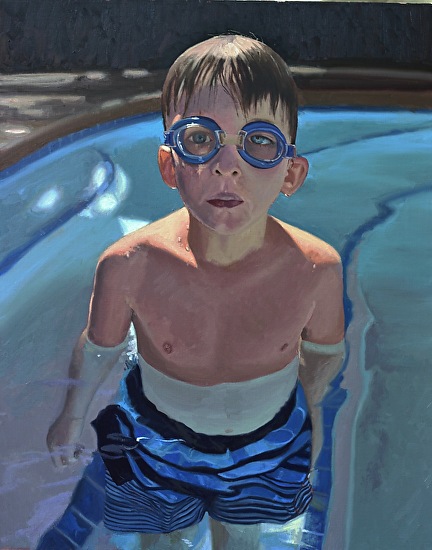 Oil 30 x 24
Jude II by Robert Akers was awarded 3rd Place in the July 2019 BoldBrush Painting Competition.
Biography
While there may be many impulses that drive an artist to create, the expression of emotion is often one of the strongest motivators. A constant striving to capture emotional truth keeps the artist progressing throughout his or her career. This has certainly been the case for plein air artist Robert Akers, even though Akers isn't always sure of the emotion he is striving to capture. The landscape often stirs emotions Akers himself doesn't completely comprehend.
Akers' artistic beginnings were born from unrecognizable feelings, almost like being pushed by an unconscious desire, or perhaps even fate. The richness and high detail of each of his paintings clearly illustrates a dedication of a truly passionate, driven artist.

His story begins in Norfolk, Virginia as the middle child of two siblings. Despite some of the strictness of a Catholic school education, he had a very happy childhood. "Summer weekends were spent at the beach on the Chesapeake Bay swimming, fishing or crabbing, which established my affinity for the ocean," explains Akers. Although he had a rather lackluster artistic interest as a child, and no artistic sources or influences, an interesting experience seemed to guide him towards a more creative direction at the age of 16.

"It was near Christmas time," recalls Akers. "My mother was going shopping for a lamp shade and I was going to sit in the car and wait for her.. But I looked up and saw that she had parked in front of an art supply store. The only money I had at that time was to buy Christmas gifts for my family but I suddenly got the urge to go inside the store. Without really knowing what I was doing, I purchased a sketch pad, a charcoal pencil and a kneaded rubber eraser. To this day, I have no idea what prompted me to do that or how I knew what to buy."

Akers took his supplies home and immediately started drawing. He gained much of his expertise by drawing from life and also by copying other works of art. Pretty soon he found himself in art classes after a move to Atlanta, Georgia, when his father was transferred for work. "I suddenly was the star artist in class and won a few awards in student shows my senior year," states Akers. By the time he was ready to graduate from high school, he knew that art was the direction for him.

After a short stint at the University of Georgia, Akers attended Maryland Institute, College of Art in Baltimore. He describes, "I was in heaven, thrilled to be done with a mostly academic curriculum as at the University of Georgia and totally immersed in classes like painting, drawing, design, and an entire class on color. It was a great foundation art student year that continues to have a huge impact on my work." After a year at MICA, Akers met his future wife the following summer. They fell in love, married and began their family. Akers' sudden family responsibilities left little time for school and eventually, he had to find work to make ends meet.

Even during this time of transition, Akers never stopped painting. He began exploring watercolors, took some classes, and even joined the County Art Association, where he won several awards and sold a few paintings. After this success, an experience he had at as a janitor at a local newspaper changed his artistic direction yet again. Much like his experience entering an art supply store for the first time, fate seems to step in again.

"The paper had an art department," Akers explains, "and one night, while emptying the trash, I found an old copy of Communication Arts magazine someone had thrown out. I took it home and sat on the side of my bed until late that night, reading all about advertising. It was at that point my career path was decided. So once I got back to school at Syracuse, I majored in Advertising Design and the 25 years while I worked in advertising, I didn't paint at all."

Instead of suppressing Akers' artistic expression, it actually enhanced his artistic skill. He states, "My job as an art director and later as executive creative director required that I draw storyboards for commercials to be presented to clients such as Kellogg's, Nintendo, Disney and Budweiser. Over a career of 25 years in several major ad agencies in Chicago, I'm sure I drew hundreds, if not thousands of storyboard frames. That alone kept my drawing skills up." At the height of his success, Akers experienced yet another fate driven experience that brought him back to his roots.

"I was shooting a commercial for the New York Stock Exchange in the Seattle area," he explains. "We were filming in a power plant one morning and I found myself standing next to the PR person for the power company. I started discussing the Seattle area with her, to which she informed me she was actually from Norfolk, VA, where I too am from. She then informed me that her parents owned an art store at Ward's Corner for many years while she was growing up. I got goose bumps. That was the art store from which I had purchased my very first supplies when I was in my mid-teens. I told her, had it not been for her parent's art store, I might not even be standing there with her that day."

This unlikely meeting brought Akers' desire to create art back to the forefront, and when he retired early from advertising, painting came to the forefront of his life yet again. For three months straight immediately upon retiring, he painted non-stop with oils, and amassed a collection of over 200 paintings. He took of a workshop in Laguna Beach with Ray Roberts during this period and, with the artist's encouragement, Akers expanded his skill and gained confidence in his work.

"My technique comes from studying all the California and French impressionists, both in person at museums (the Art Institute of Chicago and many trips to Paris) as well as from the many, many books I've collected on those artists." He furthers, "I've copied them a lot. I even took a copying class at the Art Institute of Chicago where I was able to paint in one of the museum's galleries, copying at close hand a Sargent and a Cassatt. I find copying others really helpful. I liken it to trying to walk in the snow or sand in someone else's footprints."

Akers takes influence from the great impressionists, as well as the contemporary, well-established teachers such as Matt Smith, Brian Blood, and Ray Roberts, with whom he has also taken workshops. One of Akers most important influences, however, has been artist Don Keller, who chose advertising over fine art, and was one of the original creators of Tony the Tiger. Although he was a talented painter, Keller was exceptional at his advertising creations and remained a mentor for Akers.

Through workshops and artistic exploration, Akers has come to deeply appreciate the beauty of nature and landscape. "The inspiration for my work comes mostly from the drama of nature," Akers, who now lives in Crystal Lake, Illinois, explains. "I guess because I do live in a relatively boring state in terms of terrain, when I'm out west I'm always bowled over by nature; the drama of the Pacific Ocean, the desert and the mountains. As a former art director and a pretty decent photographer, I have an eye for great lighting too and so am drawn to those moments when the sun is hitting the rocks or the mountains. Having grown up on the Chesapeake Bay, I'm also drawn to the ocean."

Akers travels as frequently as possible to explore landscapes he considers inspiring. When he's not in his studio, he's also enjoying photography, woodworking, and teaching Creativity in Advertising at DePaul University. Akers also continues to take workshops whenever possible to continue perfecting his technique.

With so much left to still accomplish, Akers makes sure he's painting every day for several hours. He states, "It occurred to me several years ago, as I was pursuing many different things, that when I'm eventually on my death bed, the one thing that I will look back and regret is if I didn't develop my artistic talents as fully as I absolutely could." Akers' dedication shows in his awe-inspiring landscapes. In each piece, Akers exposes his emotion, allowing the viewer to be comfortable to do the same. With his artistic journey now in full stride, Akers offers the world a very important message. Develop what you have to the fullest.