Informed Collector Recommends:
Daggi Wallace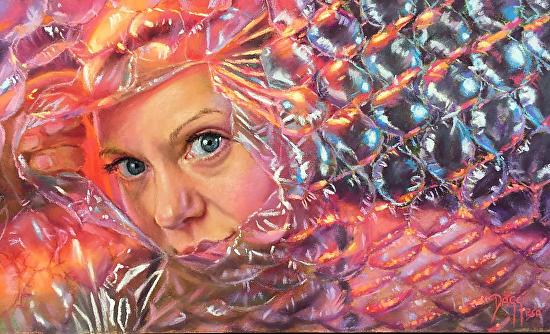 Pastel 7 x 11.5
I Am No Bird; And No Net Ensnares Me II by Daggi Wallace was awarded the BoldBrush Award in the July 2019 BoldBrush Painting Competition.
Biography
"Fine Art is that in which the hand, the head and the heart of man go together" --John Ruskin


Born and raised in Berlin, Germany (b. 1962), and currently living near Los Angeles, CA, Daggi is a self-taught award winning painter specializing in contemporary figurative realism and portraiture. She has reached the level of Eminent Pastelist of the International Association of Pastel Societies and Master Pastelist of the Pastel Society of America as well as Signature Membership in several pastel societies.
Working primarily in pastel and charcoal she pushes the more traditional boundaries of the medium by incorporating other materials and mediums into her work and presentation. Inspired by her dual cultural life she mixes realism with abstraction and personal narrative with social and political undercurrents.
Her work has been shown at the National Arts Club and the Salmagundi Club in NYC, the Butler Institute of American Art, OH, The Zhou B. Art Center in Chicago, The Wausau Museum of Contemporary Art and is in several permanent corporate collections as well as private collections, including The Bennett Collection, throughout the U.S. and Europe. Galleries that have shown her work include RJD Gallery in NY and Abend Gallery in CO. She has won numerous awards in national and international exhibitions. Her work has been published in many magazines and books, including Poets and Artists Magazine, American Art Collector, Southwest Art, Professional Artist Magazine,
International Artist Magazine, The Pastel Journal and Pratique Des Arts in France.
Besides creating work for exhibitions and teaching workshops Daggi accepts portrait commissions in her Camarillo, CA, studio throughout the year.
Artist Statement
"Focusing mainly on portraying the human condition and our connection to each other my work begins with a visual trigger that evokes a strong emotional response in me or with an idea I want to explore. I like to create images that tell a story with multiple layers of meaning that draw in the viewer first with beauty and then allow them additional contemplation. Strong lighting and composition as well as social consciousness and relevance are important to my work. Women's and children's issues are of special interest to me so recently my work has dealt more and more with current social and political issues.
My medium of choice is pastel. I love the direct application, pure pigments and versatility of pastels. It allows me to apply it wet as well as dry and combine it with other media such as watercolor, inks, acrylic, metal leaf and charcoal. Pushing the traditional boundaries of pastel work I often experiment with texture and text, ranging from graffiti to precisely rendered font. The words may be inspired or even written by the subject portrayed.


I'm inspired by my growing up in the urban environment of Berlin, Germany, where contemporary abstract work is so prevalent but I also love traditional realism. My aim is to find my own way of combining the two and continue to try out new techniques, combining pastel with other mediums and presenting it in non-traditional ways. Living a dual cultured life has been a huge influence on my work."
AWARDS (select)
2019
Outstanding Pastel, Fine Art Studio Online Bold Brush Competition,April
The Bold Brush Award, top award for the Bold Brush Competition, July, juror Clint Mansell, director of The Principle Gallery
Third Place, Pastel Society of Southern California
2018
Gold Award, Pastel Society of the West Coast's 32nd International Exhibition, Morro Bay, CA
Outstanding Pastel, Fine Art Studio Online Bold Brush Competition, June and October
2017
Best of Show, San Fernando Valley Arts and Cultural Center, Eight by Eight Exhibition, Tarzana,CA
Best of Show, San Fernando Valley Arts and Cultural Center, Color Me Bold Exhibition, Tarzana, CA
First Place, Pastel Society of the West Coast Member Show
Honorable Mention, Thousand Oaks Art Association's Annual Open Juried Show, Newbury Park, CA
Outstanding Pastel, Fine Art Studio Online Bold Brush Competition, March, June and December
2016
Silver Award, International Association of Pastel Societies 28th Juried Exhibition Master Circle, Salmagundi Club, NYC
Pastel Societies of New England Cash Award, Pastel Society of America 44th Annual Juried Open Exhibition, National Arts Club, NYC
Great American Artworks Award, Pastel Society of the West Coast International Open Exhibition, Morro Bay, CA
Honorable Mention, Grayscale Wonderland 2 Group Show, Bleicher/Gorman Gallery, Santa Monica, CA
Third Place, Pastel Society of the West Coast Members Show
Outstanding Pastel, Fine Art Studio Online Bold Brush Competition
2015
First Place, Topanga Canyon Gallery Juried Exhibition, Los Angeles, CA
Silver Award, International Association of Pastel Societies Master Circle Exhibition, Albuquerque, NM
Robert and Patricia Suggs Cash Award, Pastel Society of the West Coast Membership Show, Haggin Museum, Stockton, CA
Outstanding Pastel, Fine Art Studio Online Bold Brush Competition
2014
Finalist, Fine Art Studio Online Bold Brush Competition
EXHIBITIONS
Solo shows
2018 Resilient Women Kwan Fong Gallery, Cal Lutheran University, Thousand Oaks, CA
2016 Wende/Transformation TAG Gallery, Bergamot Station, Santa Monica, CA
2013 Winds of Change, Coastal Communities Cancer Center, Ventura, CA
2011 Luminarte Gallery, Portraits and Figures, Dallas, TX
2010 Moni's Kids, Haiti fundraiser, Marriott Biscayne Bay, Miami, FL
2009 New Works, Stage West Theater, Fort Worth, TX
2007 New Works, VERDI, Wiesbaden, Germany
2007 Surf Paintings, 230 Forest Avenue, Laguna Beach, CA (curated by JoAnne Artman Gallery)
Group shows (select)
2019
International Association of Pastel Societies Master Circle Exhibition, Albuquerque, NM
Blackboard Gallery, New Revolutions, curated by Max Presneill, Camarillo, CA
LA Art Show, bG Gallery booth, Los Angeles Convention Center, CA
Wausau Museum of Contemporary Art, International Biennial Portrait Competition 2019, curated by Margaret Bowland, Wausau, WI
The Representational Art Conference TRAC 2019, Crowne Plaza, Ventura, CA
Pastel Society of Southern California's Juried Exhibition Pastel at the Ebell, Los Angeles, CA - Zhou B Art Center, Painting The Figure Now, curated by Sergio Gomez and Didi Menendez, Chicago, IL
National Exhibition Water, open i art space, Santa Barbara, CA
Blackboard Gallery, The Next Big Thing, curated by Matt Gleason, Camarillo, CA
The Ballery, Berlin, Germany
Zhou B Art Center, Painting The Figure Now, Chicago, IL
2018
LA Art Show, bG Gallery booth, Los Angeles Convention Center, CA
Zhou B Art Center, Visions of Venus/Venus' Vision, curated by Dr. Elaine Schmidt and Didi Menendez, Chicago, IL
RJD Gallery, Women Painting Women, Men Painting Men, Bridgehampton, NY
Neutra Institute Museum and Gallery, Bowie, Los Angeles, CA
Montalban Theater, A Feminist Perspective 4.0, Hollywood, CA
Bleicher/Gorman Gallery, Circular, Santa Monica, CA
Coagula Curatorial Gallery, The Magnificent Seven, Los Angeles, CA
Pastel Society of the West Coast's 32nd International Exhibition, Morro Bay, CA
Bleicher/Gorman Gallery, Chess, Santa Monica, CA
ArtShare Gallery, Protest, Los Angeles, CA
Abend Gallery, Holiday Miniature Show, Denver, CO
2017
Prima Mostra Internazionale di Pastello in Italia, Invitational Exhibition, Tivoli, Italy
RJD Gallery, Women Painting Women, Bridgehampton, NY
International Association of Pastel Societies Master Circle Exhibition, Albuquerque, NM
South Bay Contemporary, Dear President, San Pedro, CA
Kimmel Galleries, NY University, Unnatural Election, International Exhibition, NYC
Hillcrest Galleria, Invitational, Black and White Magic, Thousand Oaks, CA
Neutra Institute Museum and Gallery, Immigrants, Los Angeles, CA
Bleicher/Gorman Gallery, Word Jumble, Santa Monica, CA
Beyond The Lines Gallery, Female Figure, Santa Monica, CA
Gallery 825, Out There juried exhibition, Los Angeles, CA
Neutra Institute Museum and Gallery, A Pre-Existing Condition Invitational Group Exhibition, Los Angeles, CA
Sparrow Gallery, Dissent Invitational Exhibition, Sacramento, CA
2016
National Arts Club, NYC, Pastel Society of America 44th Annual Juried Open Exhibition
Coagula Curatorial, Ten Top Artists, Los Angeles, CA
Salmagundi Club, NYC, International Association of Pastel Societies 28th Juried Exhibition, Master Circle
Ming Gallery, Suzhou, China, 2nd China Biennial International Pastel Exhibitions (invitational)
Pastel Society of the West Coast International Open Exhibition, Morro Bay, CA
TAG Gallery, Group Show, Santa Monica, CA
Bleicher/Gorman Gallery, Grayscale Wonderland 2, Santa Monica, CA
Beyond The Lines Gallery, Portraits, Santa Monica, CA
Topanga Canyon Gallery Juried Exhibition, Los Angeles, CA
The Blackboard Gallery, The Next Big Thing Juried Exhibition, Camarillo, CA
The Whole 9 Gallery, Peace, Culver City, CA
2015
National Arts Club, NYC, Pastel Society of America 43rd Annual Juried Open Exhibition
Topanga Canyon Gallery Juried Exhibition, Los Angeles, CA, (juror Michael Zakian, Director of the Frederick R. Weisman Museum, Malibu CA)
International Association of Pastel Societies Master Circle Exhibition, Juried, Albuquerque, NM
Haggin Museum, Pastel Society of the West Coast Membership Show, Stockton, CA
2014
National Arts Club, NYC, Pastel Society of America 42nd Annual Juried Open Exhibition
Vose Galleries, Boston MA, 24th International Association of Pastel Societies Juried Exhibition
Gallery 825, Los Angeles Art Association Annual Benefit Auction, Los Angeles, CA
Gallery 825, Los Angeles, CA, Aurora
PUBLICATIONS and ARTICLES
2019
Poets Artists Magazine, issue #101, Adorn Me
Poets Artists Magazine, issue #104, Painting The Figure Now
2018
Poets Artists Magazine, issue #91, Visions of Venus/Venus's Visions
Art, Art & Story: A Moment In Time 2017, book compiled by Karrie Ross
Pure Pastel, North Light Books
2017
Pratique des Arts, France, September issue
Professional Artist magazine, April/May issue
Poets and Artists magazine, issue#82, The Male Muse
Poets and Artists magazine, issue #83, Portraits
Pastel Journal Mar/Apr 2017, Honorable Mention Portrait/Figure category in annual Pastel 100 competition
2016
Pastel Journal Mar/Apr 2016, cover page, First Place winner and Honorable Mention Portrait/Figure category in annual Pastel 100 competition
Professional Artist magazine Feb/Mar issue, Cover page and inside article
2015
40 Maîtres du pastel book, France, December issue
Southwest Art Magazine, Artist To Watch feature, October issue
American Art Collector Magazine, September issue
International Artist Magazine, Third Prize Winner of Challenge No. 88, Aug/Sep issue
2014
Pratique Des Arts, France, cover and back page, two page inside spread with demo, June issue
Learn More About Daggi Wallace