Informed Collector Recommends:
Kathy Meisner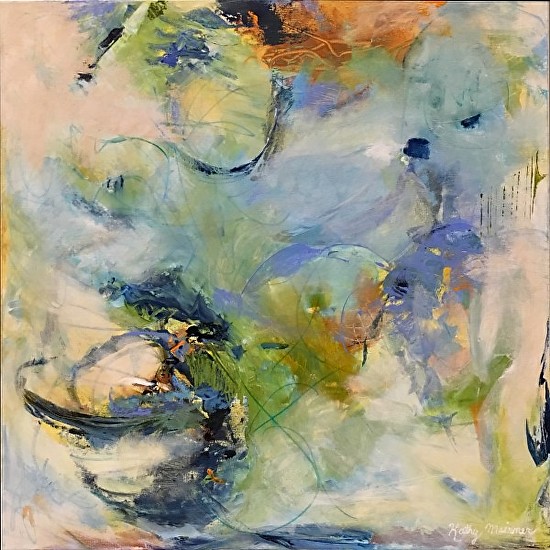 Acrylic 24 x 24
Evolution by Kathy Meisner was selected as a Finalist in the June 2019 BoldBrush Painting Competition.
Biography
Although Kathy did not start painting in earnest until late in life, countless hours of writing poetry and the thoughtful contemplation of image and light in nature formed a gestation period for her artistic soul. Even though realistic work was easier for her, she gravitated toward abstraction because of its close proximity to the fluidity of poetry.
Kathy always excelled in artistic and creative pursuits. As an educator, she enjoyed teaching elements of color and perspective to her fifth grade students. A published author with advanced degrees in education and theology, Kathy pursued an intense interest in painting after retirement from the education profession. Her instruction began in community classes and workshops in the Metro Nashville area. She has additionally profited from private lessons, ongoing participation in abstract painting and critique groups, as well as instruction at Watkins College of Art, Design, & Film.
Kathy is a member of the Visual Arts Collective and the Artist Collective at Monthaven. Her work has been shown in juried and other exhibits in the Nashville area including Student/Faculty Exhibits at Centennial Art Center, Tranquility and Minimalism exhibits at Chromatics Gallery, The Art Event at Lipscomb, The Art Show and Marketplace at Brentwood Academy, The Del Webb Art Crawl, the Del Webb Art Fair, A Fine Affair local art event, and The Monthaven Arts and Cultural Center MAS exhibit. Her work was featured as a solo exhibit in the Janet Levine March Gallery of the Gordon Jewish Community Center (Nashville, TN) during the month of July, 2019.
Formerly of Brentwood, Tennessee, Kathy now creates in her new home studio in Mt. Juliet, Tennessee, where she also has a small gallery which is open by appointment.
Artist's Statement
I have chosen acrylic abstracts as my preferred expression. I feel a good abstract has a living quality that can accommodate the varying stories of it viewers and use its colors, shapes, and textures to tell their stories as well as mine. I seek this living quality in my art by approaching the canvas without a preconceived image. I simply start with a chosen canvas size and palette, and make marks of varying form and size. Then, using brushes, palette knives, shapers, and other tools, I add and remove paint of dark, medium, and light tones turning my canvas and balancing the composition.
During this process, I am constantly asking questions of the composition and taking cues from its emerging forms. Those forms may become human figures, or an abstraction of nature, or a mixture of colors and shapes that create a feeling of joy or peace or energy. There is often something organic and tangible in my work that offers the viewer an entrance point.
Not knowing where the process will lead me is very exciting. Lately, I find that my life and thoughts emerge from the canvas intuitively. I have learned many life lessons from my canvases and feel that at this point in my evolution as an artist who I am (my soul) is invested in my work.
Learn More About Kathy Meisner