Informed Collector Recommends:
Richard Oversmith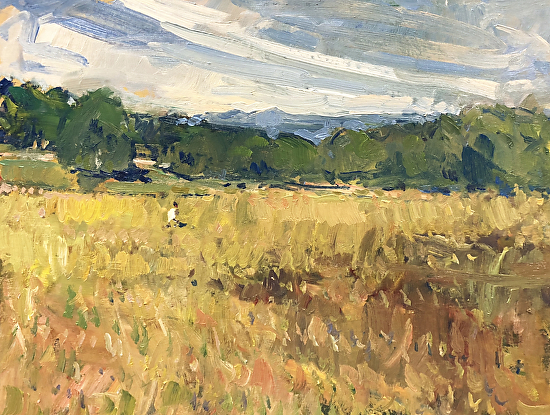 Oil 16 x 20
Summer Field by Richard Oversmith was selected as a Finalist in the June 2019 BoldBrush Painting Competition.
Biography
Richard received formal training in Fine Art and Illustration at Kendall College of Art and Design in Grand Rapids, Michigan. While at Kendall he was invited to study at the Royal College of Art in London, England. There he gained experience in plein air painting and found direction in his work as an oil painter. He graduated from Kendall College with a Bachelor of Fine Arts degree in 1995 and moved back to his home state of North Carolina to pursue his dream of becoming a professional artist.

The natural beauty of Western North Carolina has proven to offer infinite inspiration for Richard's impressionistic landscapes. From rolling mountains to abundant waterfalls, the majestic Biltmore Estate to a simple farm scene, this region evokes the artist's muse. Richard finds inspiration not only at home but in his many travels. He has painted all over the USA and has taken several trips overseas to France and Itlay. Whether at home or abroad, Richard surrounds himself in the elements of the scene while painting, in true "en plein air" fashion. In the studio, his sense of vision and mood guide him to produce still lifes ranging from the classic to the imaginative.

Richard's purpose in painting is to provoke the viewer to interact with his pieces. His paintings are his voice, and stroke by stroke, he composes a whole that relates his vision. Richard works in oil on linen, a medium compatible with the passion he puts into his creation. He strives to achieve a mood in every painting through the use of such visual stimuli as color, edges, value and drawing. He has derived his style from the lifelong study of past masters, the influence of contemporary painters he admires, and elements that have evolved from deep within himself. He allows the setting to speak to him, creating only as many brushstrokes as are needed for the viewer's eyes to understand and connect.
Education
1994 Summer Semester at the Royal College of Art; London, England
1995 BFA in Illustration from Kendall College of Art and Design; Grand Rapids, MI
2001 Week-long workshop with T. Allen Lawson at Scottsdale Artists' School; Scottsdale, AZ

Memberships
1999 - present Active member of Oil Painters Of America
2007 - present Member of Plein Air Painters of the Southeast
2011 - present Member of the American Impressionist Society
Representation
2005 - present The Art Cellar; Banner Elk, NC
2011 - present J. M. Stringer Fine Art; Vero Beach, FL
2015 - present City Art Gallery; Greenville, NC
2017 - present Hagan Fine Art Gallery; Charleston, SC
Exhibits
2014 CAVE and OVERSMITH, Two Views; The Art Cellar Gallery, Banner Elk, NC
2014 The Sumptuous Palette; J.M. Stringer Gallery; Bernardsville, NJ
2014 Door County Plein Air Festival, Fish Creek, WI
2014 Travel Near & Far, Skyuka Fine Art, Tryon, NC
2014 THE SECOND ANNUAL BATH COUNTY PLEIN AIR FESTIVAL; Warm Springs, VA
2015 Earthly Delights; J.M. Stringer Gallery; Vero Beach, FL
2015 Something's in the Air; J.M. Stringer Gallery; Bernardsville, NJ
2016 On Holiday by Richard Oversmith; Grand Bohemain Gallery; Asheville, NC
2017 Poetic Interpretations; J.M. Stringer Gallery of Fine Art; Vero Beach, FL
2017 Strokes of Genius; Hagan Fine Art Gallery; Charleston, SC
2019 Essential Gestures; J.M. Stringer Gallery of Fine Art; Vero Beach, FL
2019 Blue Ridge Realist; Hickory Museum of Art; Hickory, NC
2019 Panoramic Views; The Art Cellar Gallery; Banner Elk, NC
see more
Awards
1990 One year Merit Scholarship, Kendall College of Art and Design
1993 2nd Place in CMYK Magazine Digital Image Competition
2000 Shirl Smithson Scholarship (through OPA) to study with T. Allen Lawson
2004 Judged signature memmber of Western North Carolina Pein Air Painters
2008 1st Place at the Southern Light Plein Air Paint-out
2009 Peoples Choice Award, Banner Elk Greenway "Paint Out" Event
2010 3rd Place Cashiers Plein Air competition
2010 Best Marine Painting, 6th Annual Plein Air Easton Competition
2011 1st place at the Toe River Art Councils Annual Paint Out Competition
2011 1st Place at the Battle of the Brush Competition; Old Fort, NC
2012 Honorable Mention at Carmel Arts Festival; Carmel, CA
2012 Honorable Mention at Cashiers Plein Air Competition
2013 3rd Place; Cumberland Society Juried Exhibition; Nashville, Tennesse
2014 Artist Choice Award in Bath County Plein Air Festival; Warm Springs, Virgina
2015 The Matisse Award (Second Place) in the Olmsted Plein Air Paint-out; Atlanta, Georgia
2017 2nd place Award in the Bold Brush Competion
2018 Master Class Finalist in the Art Muse Contest
Articles
2007 August Issue: From Village to Sea; American Art Collector Magazine
2007 August Issue: In Plein Sight; Bold Life Magazine
2008 June Issue: Richard Oversmith Captures Moments in Light; Rapid River Magazine
2008 December Issue: Richard Oversmith Cover Artist; The Laurel of Asheville Magazine
2009 Sumer issue: Plein Genius; Carolina Home and Garden Magazine
2012 April/May issue: Landscape or Still Life: Similar Process, Di?erent Concentration; Plein Air Magazine
2015 January Issue: Earthly Delights; American Art Collector Magazine
2016 Three to Watch; Fine Art Connoisseur
2017 May Issue: Big, Bold and Expressive Plein Air Paintings; Pleain Air Magazine
Learn More About Richard Oversmith