Informed Collector Recommends:
Jason Sacran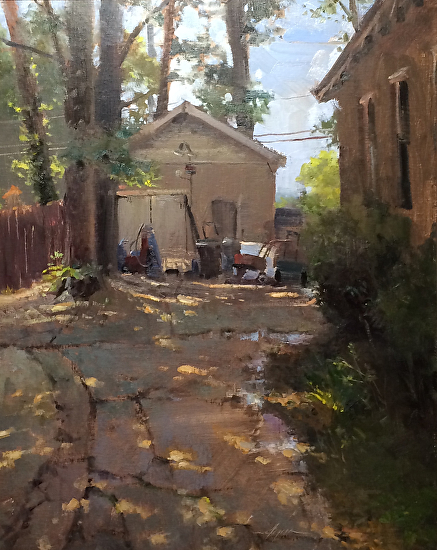 Oil 20 x 16
Off North Ponce by Jason Sacran was selected as a Finalist in the June 2019 BoldBrush Painting Competition.
Biography
"What I admire in an artist is the ability to convey authenticity through the work; i.e., choosing and pursuing a truthfulness in both the vision and the execution. I think Jason Sacran is one of those rare artists whose work seems thoroughly authentic. His character portraits are insightful and beautifully rendered, with great feeling and empathy, and his plein-air landscapes are exhilarating examples of spontaneous response to nature. He is definitely a talent here to stay."

Budd Harris Bishop
Director Emeritus, Harn Museum of Art
University of Florida, Gainesville

Jason Sacran is an artist/painter living in Arkansas. He has been invited to many exhibitions and awarded many times with such organizations as the Oil Painters of America and the American Impressionists Society among others. Some of Jason's recent awards include Best of Show awards in the: 2016 Maui Plein Air Invitational, 2016 Plein Air Rockies, 2015 Plein Air Easton, 2015 Olmsted Plein Air Invitational, 2015 Easels in Frederick and 2014 Door County Plein Air. Jason has also had featured articles with publications such as Southwest Art Magazine, International Artist, Artist Magazine, and PleinAir Magazine.
Artist Statement
"I am a contemporary representational painter, working primarily outdoors. I paint what catches my interest in the moment. This could be almost anything; an orchestration of shapes, color contrast, light and shadow patterns, a mood or atmosphere, a subject I have never tried, or a subject I enjoy, etc. I am drawn to paint places and things that say something about the day and time I live in now. Although my work is not necessarily subject driven, I find myself painting the overlooked and simultaneously familiar aspects of everyday life - scenes we pass by but rarely take the time to fully consider. In the chaos of daily life, I believe we all take the simple and familiar for granted. Sometimes it is these quiet unadorned places that make the most worthy subjects."
Select (Recent) Honors & Awards:
Grand Prize Winner –Maui Plein Air Invitational
Grand Prize Winner –En Plein Air Texas Plein Air Invitational
Best Landscape Award – 2016 OPA National Exhibition
Grand Prize Winner – 2015 Plein Air Easton juried Invitational
Award of Excellence – 2015 OPA Eastern Regional Exhibition
Best of Show & Artists Choice – 2015 Plein Air Rockies juried Invitational
Best of Show – Fort Smith Regional Art Museum 67th Annual juried Exhibition
Best of Show – 2015 South Arkansas Arts Center Annual juried Exhibition
Best of Show & Artists Choice – 2015 Easels In Frederick juried Invitational
Best of Show – 2015 Olmsted Plein Air Annual Invitational
3rd Place Overall – 2015 Plein Air Salon, Plein Air Convention
Best of Show & Artists Choice – 2015 Plein Air Southwest Salon
Grand Prize Winner – 2015 Lighthouse Plein Air juried Invitational
Best of Show – 2014 Door County Plein Air juried Invitational
Best of Show – 2014 Illinois River Salon Annual Juried Exhibition
Best of Show & Quick Draw Winner, 2014 Mountain Maryland Plein Air juried Invitational
Best Landscape & Purchase – 23rd NOAPS/Dunnegan Museum permanent collection