Informed Collector Recommends:
Valerie Cordaro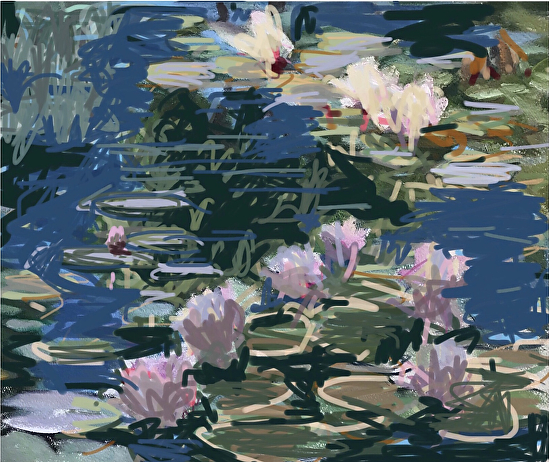 Digital
Evening Lilies by Valerie Cordaro was awarded Outstanding Digital in the June 2019 BoldBrush Painting Competition.
Biography
I was raised in New Mexico and we now live in the far South Valley where we grow many fruit and nut trees, flowers and an extensive garden. I have always had to divide my time between many things, and the building, designing and finish work of tiling and painting this house, became the biggest creative project I have ever done. My painting and drive to make images is usually a personal response to my life and has been open to change as a part of the natural order of our lives. I have used many mediums, done people, interiors, still lifes, abstractions and landscapes. I do not see them as single subjects to be isolated like a category, but as magnetic and as a place in my experience with meaning. Our lives are passing through these places and visual experiences. I think my qualifying identity is in how I use color and is settling into two distinct styles of paint approach. The quick successful sketch, to catch the immediacy and temporary on paper or canvas and then the longer haul of intense changes, memory work, going back to the site many times, with drawing and reworking ideas to arrive at something I can't put into words. This process is hard, frustrating and can fail completely. I can put a piece aside for a year or two, look at it one day and know what I need to do. I have written some more about the individual paintings on this web site. Please enjoy!
Shows and Exhibitions:
New Mexico Arts and Crafts Fair: 1984, 1986, 1987, 1989
Southwest Arts and Crafts Fair: 1985, 1989, 1991, 1993
New Mexico State Fair: 1981,82, 84, 86, 88, 89, 90, 92, 94, 96, 2010
(First Place in Watercolor, 1986, Third place, drawing, 1981 - NM State Fair)
New Mexico Watercolor Society 1980-1990 with several awards)
Magnifico of Albuquerque, 1994, 95, 96
University of New Mexico Hospital, one person show of Lotus, 1997
Charlene Cody Gallery, 1997-1999
Mariposa Gallery: Three person show, 2002, 2003, 2005 (gallery 1996- 2012)
San Juan College Art Gallery, Three person show, 2001
Kuren Ruhlen Gallery, Santa Fe, NM, Tea Cup shows, 1996, 1997
New Mexico Cancer Center, group shows, 2003, 2004 ,2005, 2006, 2007, 2012, 2014
Local Color: Six Albuquerque Artist, April 2007
Masterworks 2007,2010, 20ll, 2012, 2013, 2014
Award of Excellence, 2007 and 2012
Abiquiu Inn Gallery, Four Women show, 2009
Lovelace Women's Hospital Group Show, 2009-2010
RGAA Show, 2010, 2011, 2013, 2014, Award of excellence, 2010
Donations of 16 portraits to Lovelace Women's Hospital 2010,
Hung in Permanent Collection in Lobby of Hospital, Albuquerque, NM
Agora Gallery, National Competition, NY, NY, 2011, 6 pieces
Member of Plein Air painters of New Mexico - Shown in Sorrel Sky shows 2016, 2017
Learn More About Valerie Cordaro