Informed Collector Recommends:
Hilarie Couture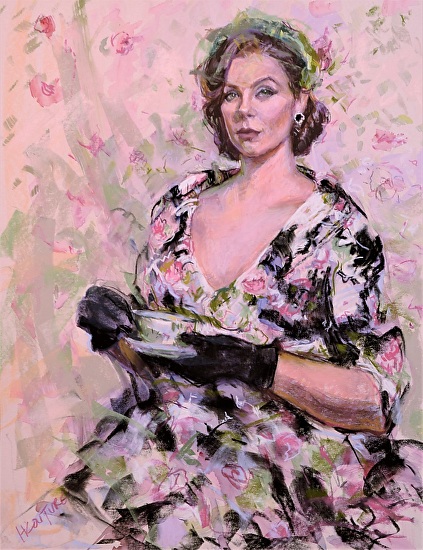 Pastel 24 x 18
I Just Love a Good Tea Party...Don't You? by Hilarie Couture was awarded Outstanding Pastel in the June 2019 BoldBrush Painting Competition.
Biography
Hilarie started to draw at the age of two. She drew faces that resembled Margaret Keanes' sad eye kids from the sixties, ballet dancers and horses. Her love of art continued through high school, and she entered college at Washington University in St. Louis, as a fashion design and medical illustration major. She attended college for less than two years, discouraged that the core classes for her major had nothing to do with art. She left school and hitchhiked out to San Francisco to draw portraits in charcoal and pastel on the streets. With virtually no formal art training, she was able to survive by selling her portraits and traveled around the country doing that for a few years.

One day she met a hairdresser that traded a haircut for a pastel portrait drawing and convinced her to go to beauty school to get a "real" job. After a few years in the cosmetology field, she started taking photography classes and loved developing film in the darkroom and styling the photo shoots. She pursued both the hair and photography, but abandoned her drawing skills completely for over thirty five years.

As life took over she continued working in different fields to make a living. She became an auctioneer, appraiser, and realtor owning a combination salon, auction gallery and antique mall where she performed all of those jobs together under the same roof. All of these careers provided a creative outlet for her, but in 2010, at age 55, Hilarie went back to college and got a degree in historic building preservation. A new door opened to her renewed artistic path. One of the classes required her to paint a mural that won an award. Upon viewing the project, her instructor remarked that she had missed her calling and that she should have been doing art all along. That experience was an eye-opener and now Hilarie is oil painting and attempting to make up for lost time. She is a full time artist, life long learner and seeks creativity daily. Although self taught, she has attended workshops from some notable artists whom she admires such as Dan Gerhartz, Carolyn Anderson, Zhoaming Wu, Casey Baugh, Max Ginsburg, Slava Korolenkov, Eric Bowman, Mitch Baird, and Rose Frantzen.
"All of the history of my life informs what I do, all those trials and triumphs translate to the canvas… I believe that the portraits and figures give me what I have always strived for, as I so desperately wanted a connection with people, to feel loved and validated from an early age. Portraits… probably because facial recognition is the first form of communication. The intimacy that becomes through sitter to artist to viewer is a very personal bond… however eye contact can be uncomfortable in a painting as Margaret Keane said… eyes are the mirror to the soul. I think my paintings tell their stories and mine through the faces ."
"I believe that God gave me this natural gift ,but the more I have grown to understand art, the harder painting has become. Naively, at first I remember not really thinking, just enjoying the process of painting ,but now that I know things, it is hard. I still enjoy the process but I am constantly asking myself..what is the color, temp, value …are my brushstrokes expressive enough, etc... It is a journey.

I am primarily a direct painter, prefer life but work from photos, I prefer oil for its various qualities ...thick to thin.then pastel, oil pastel colored pencil ,charcoal, and experimenting with mixed media and water media. My journey has taken me from photorealism to romantic impressionism to what I now want to do .. as contemporary abstracted reality. Which brings me to the thought ... is there really anything new in art? Someone else has already probably already done it.
My heritage is Russian and I'd like to think I am secretly channeling Fechin as he died in 1955 ,the year I was born so I could carry his legacy. I feel that my work has the energy of the Russian impressionists and I strive to execute the color and light effects with paint. I love so many masters... Bongart, Mancini, Sorrolla, Sargent, Zorn, Waterhouse, Mucha, Klimt, etc. Richard Schmid and on and on so many contemporaries…..I discover new artists daily, …

My work, like painting itself, is about contrasts. It is an attempt at balancing the chaos and order, just like my life…I am now painting over earlier canvases leaving some of the image exposed.. I am wanting to try more mixed media elements in my work and be less literal overall ,letting the viewer fill in the details….finding their own story in it ."
Hilarie Couture's art is gaining interest with new collectors all over the country. She has been showing work in various galleries and businesses in the Portland / Vancouver area, represented by Attic Gallery in Camas, Washington, and is currently seeking representation in other areas. She also teaches workshops, classes and does portrait and other commissions in her studio/gallery in Vancouver, Washington.

Juried Public Exhibitions
2018 Splendorporium gallery monthly shows, Portland,Oregon
2018 Nwpastel Society members show, Kirkland, Washington
2018 Nwpastel society International show, American Art Company , Tacoma, Washington
2018 International Pastel Society Show, American Art Company, Tacoma, Washington
2018 Celebration of Creativity ,Beaverton, Oregon
2018 Scottsdale Artists School , Best and Brightest 2018 show, Scottsdale artists School, Scottsdale , Arizona
2017 Holiday Small Works Show , National Oil and Acrylic Painters Society, Cathy Kline Gallery , Parkville , Missouri
2017 Northwest Pastel Society Members Show, Portland, Oregon
2017 Northwest Pastel Society, International Show, American Art Company, Tacoma, Washington
2016 Women Artists of the West, Annual Show, Fredricksburg, Texas
2015/2017 Peoples Art, Big 500 show, Portland, Oregon
2015 Clark County Open Studios, Vancouver, Washington
2015 Broderick Gallery, Longview ,Washington, Regional Artists
2014 NOAPS National oil and Acrylic Painters Society Best of America Show, Bolivar and Lake of the Ozarks, Missouri
2014 Vancouver Public Library, Vancouver, Washington
2014 NOPG Northwest Oil Painters Guild, Hanging at the Summit, Ridgefield, Washington
2014 Rose Festival Show, Oregon Society of Artists, Portland, Oregon
2014 Aurora Gallery, featured artist, Vancouver, Washington
2014 Cascade Aids Project Art Auction, Portland, Oregon
see more
Solo Shows
2017 Founding Mothers, Book signing and final show , Cascade Park Library, Vancouver, Washington
2017 Founding Mothers, Book signing and show , Three Creeks Library, Vancouver, Washington
2017 Locals Show Invitational, Attic Gallery, Camas, Washington
2017 Touchmark, Vancouver, Washington
2017 Founding Mothers, Ft. Vancouver Visitors Center, Vancouver, Washington
2017 Terwiliger Plaza, Geezer, Gallery, Portland, Oregon
2017 That Which is Beauty, Mt. Hood Community College Fireplace Gallery, Gresham, Oregon
2016 People, Place or Thing, Lava Java Coffee shop, Ridgefield, Washington
2016 Tour of Founding Mother's Portraits of Progress, Clark County Historical Museum and other locations, Vancouver, Washington
2016 Aurora Gallery, featured artist, February, Women and their Exotic Animal Spirits, Vancouver,Washington
2015 Artsy Shark, featured artist, on line
2015 Broadway Gallery, Guest Artist, month of February, Art From My Heart , Longview, Washington
2014 Muse Art and Design, People and Places of Portland, Portland, Oregon
2014 Second Story Gallery, Les Femmes et les Fleurs Camas, Washington

Group Exhibitions
2018 Group Show Pathways, Christmans Gallery, Sellwood, Oregon,
2017 Locals Show, Attic Gallery, Camas, Washington
2016 Northwest Oil Painters Guild Annual show, Vancouver, Washington
2016/2018 Society of Washington Artists Spring Show , Vancouver, Washington
2016 For the Love of Portland, Peoples Gallery, Portland ,Oregon
2015 Toys, Aurora Gallery, Vancouver, Washington
2015 Portrait Society show, U.S. Bank, Portland, Oregon
2015 Northwest Oil Painters Guild Annual members show, Vancouver, Washington
2015 Clark County Fair, Vancouver, Washington
2015 Trillium Gallery on line published in their monthly magazines 2015 Lakewood Festival of the Arts Open Show, Lake Oswego, Oregon
2015 Society of Washington Artists Open Show, Vancouver, Washington
2014 Art Factors, Alla Prima Portland, Portland, Oregon
2014 SWA Spring Show, Vancouver, Washington
2014/ 2018 Battleground Art Alliance Spring Show , Battleground, Washington
Awards
2018 Nw Pastel Society members show, jurors award
2018 Nw Pastel Society International show, jurors award
2018 Bold Brush fav 15
2017 Bold Brush fav15 and outstanding pastel finalist
2017 Art Muse Contest, Finalist Emerging Artist August /September
2017 Heaven Art Gallery, first place Love category, Scottsdale, Arizona
2016 Northwest Oil Painters Guild Annual Show , first Place, Third Place and Sponsor award, Vancouver, Washington
2016/2018 Society of Washington Artists Spring show, Best of show, 2nd Place oil painting, 3rd place , Vancouver, Washington
2015 Oil Painters Guild Annual Show, Best of show, 2 Sponsor awards, Vancouver, Washington
2015 Clark County Fair, first place, Vancouver, Washington
2015 Lakewood Festival of the Arts, Blue Ribbon, Lake Oswego, Oregon
2015 SWA Society of Washington Artists, first place oil painting, Vancouver, Washington
2014 NOAPS Best of America Show, Best People Painting award, Bolivar , Missouri
2014 NOPG Hanging at the Summit, honorable mention, Vancouver, Washington
2014 Rose Festival Show , third place, Portland, Oregon
2014 SWA Society of Washington Artists Spring Show, Best of Show , third place , honorable mention and sponsor award, Vancouver, Washington
2018-2014-2013 -2012 Battleground Art Alliance Spring Show, sponsor award, honorable mention , Battleground, Washington

see more
Representation
RJ Art Gallery, Mc Minnville, Oregon
Steel Door Gallery, Portland, Oregon
Regency Parkway Art, Omaha, Nebraska
Attic Gallery, Camas, Washington
Xanadu On line , Scottsdale, Arizona
Artfinder, on line
Memberships past and present
Pastel Society of America
Northwest Pastel Society
Northwest Washington Watercolor Society
Women Artists of the West
American Women Artists
Portrait Society of America
National Oil and Acrylic Painters Society
American Impressionist Society
Oil Painters of America
Alla Prima Portland
Northwest Oil Painters Guild
Learn More About Hilarie Couture