Informed Collector Recommends:
John Allinson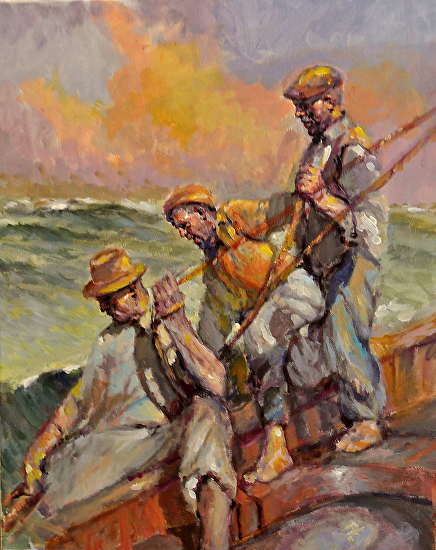 Acrylic 20 inches x 16 inches
Pulling in the Catch by John Allinson was awarded Outstanding Acrylic in the June 2019 BoldBrush Painting Competition.
Biography
John Allinson has achieved success as a mural painter over the past twenty years working in several countries for private and corporate clients. His work encompasses themes for restaurants, hotels and bars, for airports and swimming pools. He paints mainly in acrylics, overlaying colour to produce extreme light effects.
He was also commissioned to paint the longest canvas painting in the world by Dragon International Studios, Richard Attenborough's new film studios now being built on a multi-acre site in South Wales, as a prelude to and in celebration of the studios, but a Chinese canvas of 6600 feet determined that the record was unachievable. John Allinson's painting 'House of Dreams' now stands at 240 x 8 feet in two rolls of canvas, and there has been interest from various large scale venues in the UK and the US to display and sell the canvas, a donation of the proceeds being earmarked for charity.
Art Historian Rex Harley wrote, 'In John Allinson's painting 'House of Dreams,' a host of artists and entertainers emerge from a swirl of colours, in the same way that their counterparts stepped out from the stream of history to entertain and enrich our lives. They are represented mainly by heads and torsos in a series of tableaux, solid and strong, conjured up in bold bravado strokes of paint. Though there is an echo here of the film poster, the artist is not interested in slavishly capturing physical likeness. Thus, what could have been in the hands of a less accomplished painter a series of disjointed and lifeless portraits becomes here, in this vast panorama, a dynamic progression, action, set against the backdrop of time – the world in widescreen.'
Learn More About John Allinson