This post is by guest author Mauricio Gonzalez. Maurico is the founder & CEO of ARTDATAintel. Mauricio is a passionate Art Collector. He's also a Marketing Communications expert whose career spans decades at some of the world's most prestigious, global advertising agencies.
Artist Rankings: BoldBrush Painting Awards (2009 - 2018)
ARTDATAintel is a comprehensive research and data statistical initiative based on the conviction that sound art data intelligence can help collectors build a superior, more valuable art collection while inspiring artists to define winning strategies in the marketplace.
By exploring 300,000 plus submissions and identifying more than 4,500 award-winning artists from diverse art contests over the past 10 years, ARTDATAIntel is able to provide industry trends along with statistics on an artist's multi-year performance, his or her ranking among peers, consistency across contests, rising trends and more.
To demonstrate the power of ARTDATAintel in a simple way, we've singled out just one key Contest out of the more than 10 we analyze. So, here we'll restrict the conversation to the BoldBrush Painting Contest, our first love, and the first competition we started to follow back in 2009.
The BoldBrush Painting Contest has three special qualities that we want to highlight before unveiling its accumulated Ranking of Top Artists over the last 10 years. Firstly, it is a massive art competition drawing more than 135,000 entries over that time to give 2,188 awards to 1,016 artists. Secondly, it has one of the toughest winning criteria resulting in less than 2 pieces out of every 100 submitted receiving an award. As Clint Watson, BoldBrush's CEO, told us in a recent conversation: "When you win at BoldBrush, it means that you're more than really good." Thirdly, it is a marvelous global competition; that's why in the following Ranking you'll discover or recognize artists from as far as Slovakia, Finland and the Pacific Northwest or as close as Canada and the United States.
To make it snackable we've boiled all this data down into one simple chart. It shows the honorable Top 7 Rankings.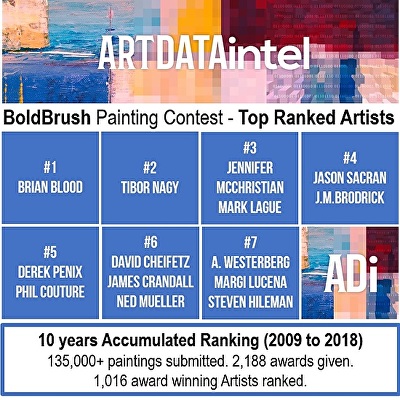 We realize that winning an award doesn't make a great artist, but when an artist repeatedly wins more awards than others and his or her performance is consistent over 10 years, make no mistake that artist is a great buy! Remember, consistency is the name of the game in art and in any business and statistics don't lie... this is the power of ARTDATAintel.
So, any top artist as measured by one or more of our 10 plus art competitions is sure to make your own personal collection more valuable. Just visit their websites to discover which one of them better matches your own personal taste, and make sure you follow us on Instagram @ARTDATAintel.
Kind Regards,
Mauricio Gonzalez
ARTDATAintel Founder & CEO
Sample work of Top 3 Rankings:
Artist: Mark Laguë
Over Brooklyn
Oil 40x60
Artist: Brian Blood
Crashing Surf in Pacific Grove Oil 24x36
Artist: Tibor Nagy
Blackness Over the Lower Street Oil 16x20
Artist: Jennifer McChristian
Shady Shanty Shed
Oil 9x12