Informed Collector Recommends:
Barbara Noonan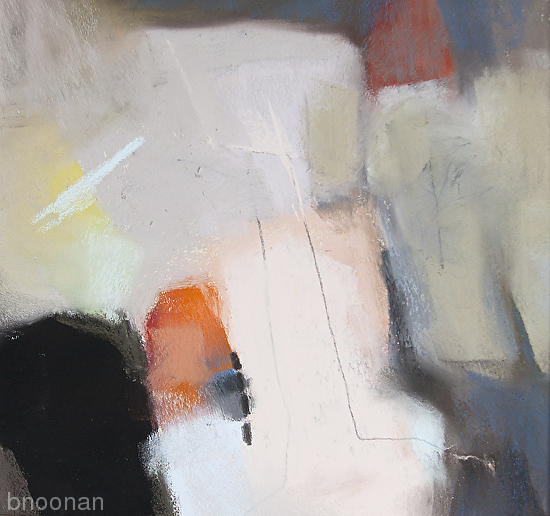 Pastel 9.5 x 9.5
Wander by Barbara Noonan was awarded 2nd Place for Abstract in the June 2019 BoldBrush Painting Competition.
Biography
"Allow me to take you to a wide open space where you can feel the texture of the outdoors heightening your senses."
Barbara Noonan paints in soft pastel to convey her personal interpretation in a painting. When not in her Pioneer Square studio, she's off capturing light painting en plein aire. Private students in Seattle thrill with her creative and enthusiastic approach to pastel painting.
Working under Pastel Laureate Bob Gerbracht in San Francisco, Barbara studied portrait and figure painting and continues to attend workshops, critique groups and artist's residencies. Influences include Diebenkorn, Thiebaud, Skip Lawrence and Alex Powers.
You can find Barbara's work in galleries in Western Washington and Northern California. She is a Signature Member of the Northwest Pastel Society and the Pastel Society of the West Coast, a member of Women Painters of Washington and has juried art exhibitions in Washington and Oregon.
Barbara utilizes her background in Human Resources as a consultant and mentor, offering professional art business workshops. A King Country 4Culture Grant recipient, her artwork is included in the City of Kent Art Collection.
Gallery Representation
Childhood's End Gallery, Olympia, WA
Matzke Fine Art Gallery and Sculpture Garden, Camano Island, WA
Women Painters of Washington Gallery, Seattle, WA
American Art Company Gallery, Tacoma, WA
Simon Mace Gallery, Port Townsend, WA (closed April 2017)
Selected Exhibitions and Honors
2019
Small Works Show, Childhood's End Gallery
Northwest Pastel Society Signature Member Show, Scott Milo Gallery
Whidbey Island Plein Aire Paint Out, Guest Demo Artist, August
On Location, Women Painters of Washington Gallery
Sculpture Northwest, Matzke Fine Art Gallery
32nd International Northwest Pastel Society Exhibition
Brush with Color, Scott Milo Gallery
Camano Island Studio Tour, Matzke Fine Art Gallery
2018
The 32nd International Association of Pastel Societies Juried Exhibition, American Art Company Gallery, Tacoma, WA
31st International Northwest Pastel Society Exhibition, American Art Company Gallery, Tacoma, WA
Visual Impressions 3rd Biennial Ryan James Fine Arts Gallery, Bellevue, WA
Pastel Society of the West Coast 2018 Online Membership Exhibition
For the Love of Animals, BallardWorks Studios, Seattle, WA
2017
Women Painters of Washington Member's Show, Childhoods End Gallery, Olympia, WA First Place.
Edmonds Art Festival, Edmonds, WA Honorable Mention.
Northwest Pastel Society, Oregon Art Society, Portland, OR, August, Juror's Award
Pastel Journal 100 Competition, Honorable Mention, Abstracts and Non-Objective Category, March
Northwest Pastel Society International Exhibition 2017, Juror's Award, Tacoma, WA,
City of Kent, Centennial Hall, Kent, WA November-December
Island Vintners, Bainbridge Island, WA, August - October
Lakeshore Seattle, June - October
Madison Park Art Walk, September
Pastel Society of the West Coast, On-line Membership Show
2016
Annual Member Exhibition, Northwest Pastel Society, Dakota Art Gallery, Bellingham, WA
Childhood's End Gallery, Olympia, WA
World of Pastels, Ida Culver House, Seattle, WA
Kent Summer Arts Festival, Kent, WA
Northwest Pastel Society International Exhibition 2016, Tacoma, WA
35 Live, Center on Contemporary Arts, CoCA, Members' Show, Digital Exhibition and Catalog, Seattle, WA
Pastel Society of the West Coast, On-line Membership Show
Simon Mace Gallery, Port Townsend, WA
Tenants and Friends, Ballard Art Works, Seattle, WA
Mornin Noonan Night Studios, First Thursday Art Walk, Seattle, WA
2015
Solo Exhibition, Panoramic Visions - a new series of pastel paintings, Mornin Noonan Night Studios, Seattle, WA
Regional Influences, Madrona Wine Merchants, Seattle, WA
Northwest Pastel Society Annual Member Exhibition, Vashon Allied Arts, In the Gallery, Vashon, WA, Juror's Award
From Meadows to Mountains, Plein Aire Artists of Washington Exhibition, American Art Company, Tacoma, WA
Peninsula Art League, Open Juried Art Show 2015, Harbor History Museum, Gig Harbor, WA
Summer Collection Exhibition, Childhood's End Gallery, Olympia, WA
Dealer's Choice, Simon Mace Gallery, Port Townsend, WA
Northwest Pastel Society 29th International Annual Open Exhibition, American Art Company, Tacoma, WA
Bob Gerbracht: The Artist and His Influence, The Epperson Gallery, Crockett, CA
Learn More About Barbara Noonan