Informed Collector Recommends:
Dianna Fritzler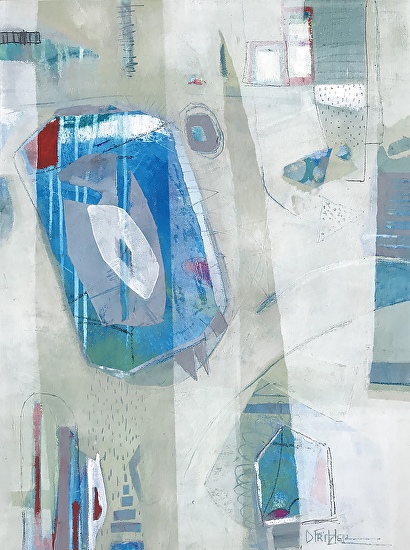 Oil 24 x 18
Rigamarole by Dianna Fritzler was selected as a Finalist in the May 2019 BoldBrush Painting Competition.
Biography
At an altitude of 7,500 feet, Dianna was propelled into the world of black & white photography while studying Journalism at the University of Wyoming. Watching images "magically" appear in the dark room was like opening gifts on Christmas morning. Thus began her love of art.
After graduating and then working in the PR/Advertising world in Denver, she sold everything and backpacked around the world to explore art and architecture. It was now official - art and Fritzler were officially dating.
Upon landing back in Denver, Dianna returned to the world of marketing. In 2000, she moved with her family near the towering red rocks of the National Monument in Grand Junction, CO and that is where her art career took off in earnest.
Dianna continued to delight in her photography, but after the only darkroom available to the public closed in 2002, she transferred her artistic "voice" to oil painting, mixed media and wax creations.
Currently Dianna teaches workshops across the country and paints to her heart's delight. She feels very fortunate to have many collector and workshop participants who bring her great joy.
Artist's Statement
My paintings reflect how I see life – somewhat chaotic, but always vibrant and joyful. No matter what medium I use, each painting I create begins with a vibrant patchwork of paints and wild mark making. From there, I begin laying in additional crazy shapes of color one by one. It is at this point that I let the painting direct me where to go next. This push and pull of color, texture, line and shape is a dance that infuses and challenges my sensibilities. When superimposing layer upon layer of paint and manipulating it back and forth, I retreat into the profound journey of living in the moment with complete awareness and (mostly) acceptance. My intention always is to sprinkle seeds of joy and help foster optimism.
Current Gallery Representation
Arts at Denver - Denver, CO
Osmosis Art Gallery - Niwot, CO
Past Gallery Representation
2017 - 2018 Cherry Creek Art Gallery, Denver, CO
2011 – 2013 Vertical Arts, Steamboat Springs, CO
2010 – 2013 Contemporary Fine Art International – online
2010 – 2013 Daily Painters of Colorado - online
2009 – 2013 Arts at Denver, Denver, CO
2007 – 2013 Blue Pig Gallery, Palisade, CO
2007 - 2011 Act 1 Gallery, Taos, NM
2005 – 2013 La Mesa of Santa Fe - Santa Fe, NM
Collections/Miscellaneous
2018 - Third place "Colorado Showcase", Parker, CO
2018 - Selected work for St. Mary's Hospital new wing
2012 - Chosen by Children's Hospital, Denver, CO to paint five large pieces for their new wing
2012 - Selected to represent Colorado by Art in Hand United States Card Deck Project
2011 - Artwork awarded Honorable Mention – Kudos International
2011 - Artwork awarded Honorable Mention – Abstract Art International
2010 - Artwork awarded Honorable Mention – Abstract Art International
2010 - Artwork selected for 2010 Palisade Bicycle Classic poster.
Selected Exhibitions /Shows
2018 "Colorado Showcase", PACE Center, Parker, CO - Third Place
2018 "Beautiful Things", Three-woman Show, Schoolhouse Gallery, Parker, CO
2017 Selected for Winterfest, Evergreen, CO
2017 Selected for Colorado Arts Festival, Castle Rock, CO - First Place Award
2017 Selected for Art Students' League Summer Arts Festival, Denver, CO
2017 Eight person exhibit, Cherry Creek Art Gallery, Denver, CO
2013 Art & Architecture, Telluride, CO
2012 Selected for Crested Butte Arts Festival (one of top five in the U.S.)
2012 Selected for Art on the Rockies, Vail, CO
Learn More About Dianna Fritzler