Informed Collector Recommends:
Mark Webster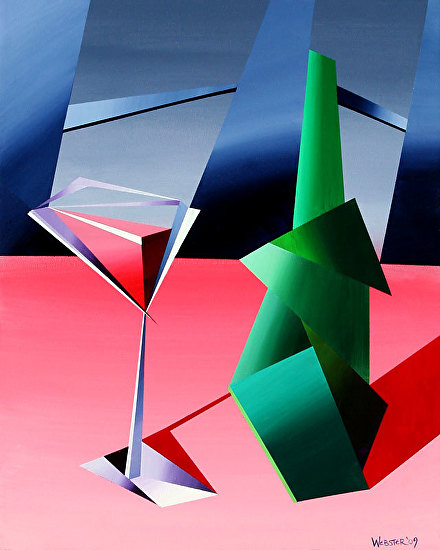 Acrylic 20 x 16
Abstract Wine Bottle with Glass Still Life Acrylic Painting by Mark Webster was selected as a Finalist in the May 2019 BoldBrush Painting Competition.
Biography
I got into painting after a number of years of drawing and/or inking for comic books. This was about 10-12 years ago. All of the comic books were independent and I don't think that any of them ever saw the light of day. After a while I had decided that comic book illustration wasn't working out for me and I had decided to go back into painting (which I hadn't done since college about 5 years earlier). I had studied a number of different artists' styles and ultimately started dabbling in cubism and futurism. I found that I wanted to paint like Umberto Boccioni sculpted. I particularly enjoyed the sculpture "Unique Forms of Continuity in Space". I've done a painting of it called "Ode to Boccioni". Over time I have fused these ideas as well as several other styles into my own style of painting which is not really cubism, and not exactly futurism, but these descriptions will do for the time being. I had started a painting blog http://blog.websterwebart.com after completing "Thirty Paintings in Thirty Days", a project for a local art gallery. Since then I have joined the Daily Painters Marketplace http://marketplace-daily-art.blogspot.com/, the Daily Painters Abstract http://dailypaintersabstract.blogspot.com/ the best known of the daily painters galleries DailyPainters.com.
Mark's work has been shown in a number of juried exhibitions and in galleries all over the United States. His awards include BEST of SHOW at the 43rd Annual National Show in Cheyenne, WY, First Place at the Art Deco Reimagined Exhibition in Roseville, CA, BEST of SHOW at the Diamond National Art Competition in Hot Springs, AR, First Place Oil/Acrylic Painting Carnegie Arts Center's juried exhibition, "Imagining the Real", an HONORABLE MENTION for "The Guitar Player in San Gimignano", and an EMERGING ARTIST SPECIAL AWARD for "Michael" at the X-Power Gallery in Beverly Hills, CA. 2009 International Art Competition.

Currently Mark is represented by DailyPainters.com, the Daily Painters Marketplace, Daily Painters International, and Daily Painters Abstract Gallery.
Artist Statement
I wanted to convey the depth of motion of the human figure, landscape, or still life both active and at rest. The result became a form of sculptural abstract imagery of not only the subject itself, but rather the time and space that it occupies in a single moment, or several single moments reducing the form into less complicated shapes. After several drafts I begin developing areas to gain the effect of either greater tension or greater flow. This combined with an edge on edge effect is what gives my work a dimensional depth. The result is a juxtaposition of organic and artificial forms giving my work a sculptural presence.
Shows And Exhibitions
2016
2016 July-August Abstract Art Exhibit Art League of Lincoln Honorable Mention for "Futurist Ocean"
2016 June-September 27th Annual Juried Competition Center for the Arts, Dalton Gallery
2016 April RosevilleArts' – 8th Annual Lottery for the Arts Blue Line Gallery
2016 April Human Nature – Colors of Humanity Art Gallery
2016 January - March A Foot in the Door : Abstract Art and Meaning - Santa Clarita City Hall
2016 February - March Life on Mars: David Bowie Tribute - Blue Lamp
2016 January The Miniature Show - The Washington Neighborhood Center
2015
2015 September Midwest National Abstract Art Exhibition XI - Southside Art League
2015 September Body and Mind - Sulfur Studios
2015 May - July Art of Our Century - Woodbury Art Museum
2015 March - May Blurring the Edges - Dubuque Area Arts Collective
2015 March - May 7th Annual Idaho Juried Exhibition - Willard Arts Center
2015 March - Present Sparrow Gallery
2015 January - March 36th Juried Exhibit - WaterWorks Art Museum