Informed Collector Recommends:
Julia McMinn Evans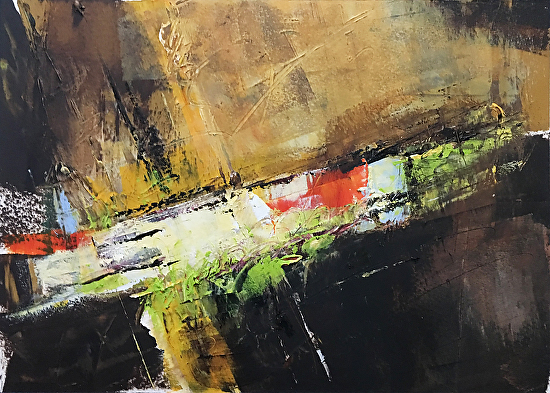 Oil 11 x 14
Canyon Light by Julia McMinn Evans was selected as a Finalist in the May 2019 BoldBrush Painting Competition.
Biography
Originally from Oklahoma, Julia moved to Colorado as a small child. She decided to follow her passion for the arts by pursuing an Associates in Graphic Arts/Technical Illustration/Drafting at Pikes Peak Community College, followed by a BA in Fine Arts at University of Colorado, where she graduated with honors. Her degrees have allowed her to craft an interdisciplinary approach to her work, whether it be in design, digital media, or painting.
After a successful graphic design career, Julia left the corporate cubicle behind and now paints full-time. The Rocky Mountain West inspires her on a daily basis, and she aims to visually communicate the feel of the landscape through her use of shapes, color, and exciting textures.
Artist Statement
Abstract Landscapes Filled with Color and Energy
The air, light, energy, and beauty that is nature inspires me. Endlessly fascinated by its variations and forms, I am drawn to my easel to create paintings filled with color, texture, and movement.
I develop my design using thumbnail sketches where I work out the composition, the values, and what I want the painting to say. After selecting the best design for the painting I lay out my composition on a textured surface (I like spreading thick gesso with old credit cards: thus avoiding a smooth surface). I then paint layers of color, shapes, and marks, often drawing into the wet paint. Shapes come and go, surprising elements surface and the painting becomes a journey into the unknown.
It is this mystery my collectors love.
Education:
Bachelor of Arts, Fine Arts—with distinction (Magna Cum Laude), University of Colorado
Independent Studies and Numerous Workshops
SELECTED EXHIBITIONS AND AWARDS:
2017 International Watermedia, Colorado Springs, CO
2015, 2016 Salon des Refuses, Loveland, Colorado
2016 Sunny Vista Annual Juried Art Show, Honorable Mention, Colorado Springs
2014 52ndAnnual Fall Art Festival, Second Place/Abstracts, Glenwood Springs, C)
2011, 2013, 2014 Palmer Lake Art Group, First Place/Abstracts, Palmer Lake, CO
2014 Featured Artist, Catriona Cellars, Monument, Colorado
2014 2017 Pikes Peak Library District
Learn More About Julia McMinn Evans