Informed Collector Recommends:
Heidi Lorenz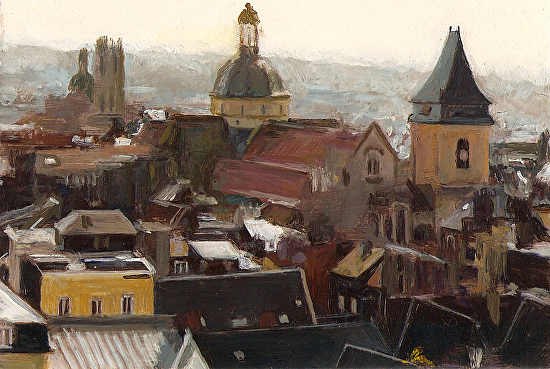 Oil 5 x 7
Dieppe Rooftops by Heidi Lorenz was selected as a Finalist in the May 2019 BoldBrush Painting Competition.
Biography
Heidi, born in Muenchweiler, Germany December 18th spent childhood predominantly in the United Kingdom. Magnificent coastline & pastoral countryside enthused sensibilities toward horses, the sea & country. Heidi's love of art formed early and illustrations in Anna Sewell's "Black Beauty" shaped initial artistic impressions & a love of horses. Summers were often spent in the United States and then academic periods in the United Kingdom. In the early teens Heidi would walk several miles to visit the "Red House Museum" to witness authentic works of art. In her later teens Heidi was able to travel further and came across the work of artist Lucy Kemp-Welch at the "Russell-Cotes Museum" & eventually Heidi would encounter the vast art & cultural scenes of London, Paris, NY & other cities! Currently, Heidi enjoys farm life in Goshen, NH, USA and shares her farm with her son and his family, a couple horses, several dogs, cats, goats and of course chickens!
Academics
After school Heidi attended Brockenhurst College, Southampton, England and received a degree in general business bookkeeping and accounts. In 1986 she relocated to the United States supporting strong British influence & work experience in the graphic arts and in the dark room. In 1995 Heidi gained a Bachelor of Psychology & began art education at the University of NH at the Art Institute. Being young and adventurous Heidi traveled hither and thither across United States and some of Canada for the next several years when circumstances would allow. Back in NH during 1998 Heidi began study under bold maritime artist Christopher James Ward of Portsmouth, NH. In 2002 Heidi met Boston School painter Dan Helgemo and enjoyed private study at the Ateljé Helgemo at Langer Place, Manchester, NH. In 2002 until 2006 Heidi perched under acclaimed Barbizon painter Dennis Sheehan. Heidi still garners tips and advice from Dennis and visits his studio whenever possible. Currently Heidi is under the tutelage of Peter Granucci of Surrey, NH studying advanced principles of painting in ever increasing layers of depth. Two steps forward one step back!