Informed Collector Recommends:
Gary Hopkins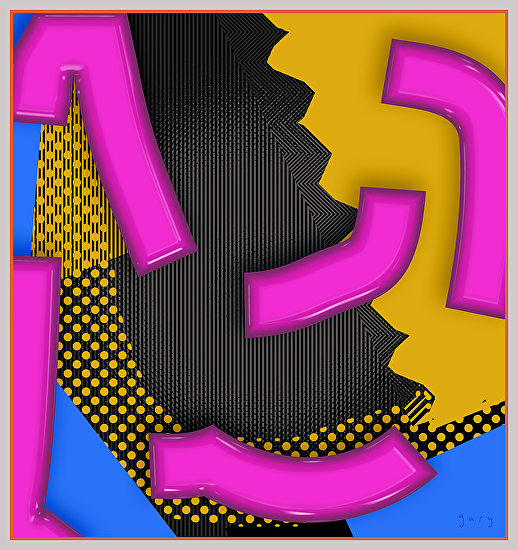 Digital 34 x 32
NeoPop series No. 6 - Marilyn by Gary Hopkins was awarded Outstanding Digital in the May 2019 BoldBrush Painting Competition.
Biography
Gary is a self-taught contemporary, abstract expressionist artist. He creates bright and colorful original digital paintings where everything is drawn directly into the computer (no scans or photography) using a digital pen on a touch sensitive tablet. Gary uses color with a depth and sense of abstraction that lures the viewer to experience the artwork through the color combinations, pattern, movement and brush strokes the work is inspired by what Gary perceives in his surroundings along with his thoughts, moods, feelings, conflicts and contradictions - and puts them directly into the painting. His unique style gives each viewer a different personal experience that deepens over time
Favorite Art Quote: " I found I could say things with color and shapes that I couldn't say any other way - things I had no words for" - Georgia O'Keeffe
About Creativity: "All creativity comes out of inner spaciousness. Once the creation has happened and something has come into form, you have to be vigilant so that the notion of "me" or "mine" does not arise. If you take credit for what you accomplished, the ego has returned, and the spaciousness has become obscured." - Eckhart Tolle from A New Earth
Juried Shows and Exhibitions
Featured Artist by ARTRAGE - https://www.artrage.com/artist-feature-gary-hopkins/ 2016
"Shades of Green" Gallery 25N Exhibit Online New York Online Exhibit – Open 07/07/2017 .
GALLERY 25N INTRODUCES A SYMBOLIC ENCOUNTER OF SHADES OF GREEN FROM TWENTY INTERNATIONAL ARTISTS.
"35th Annual Wallowa Valley Festival of Arts" - September 2017
"CCAN2017" Center for Contemporary Arts National Juried Competition - November 2017
"ARTAVITA 25th Annual Online Contest" for Art Expo New York - November 2017
Art Festival In Porto 2018 " Structures in Space" juried into show in Porto Portugal opens 10 March through 23 March 2018
311 Gallery's 2018 ABSTRACTS "Fragile and Complex" and " Temple of Luminous Dreams" -National juried show Raleigh, North Carolina Mar 1 - Mar 31 2018
"Abstracts 2018" - Light Space & Time Online Art Gallery works awarded in " Special Merit Category" and"Special Recognition Category" International Exhibition opened March 1, 2018.
"Taos Art Insurgency - The New Protagonists" Greg Moon Art Gallery ; Taos New Mexico. A juried exhibition of 34 artists selected from a national call for entries.
Colorida Galeria de Arte Lisbon Portugal Exhibition of 4 works 5 to 18 of May 2018.
Rossinabro Gallery Rome, Italy 2 works showing August - November 2018
"Brand 46th Annual National Juried Exhibition of Works on Paper" - Brand Library & Art Center Glendale, California. juror for this exhibition was Edward Goldman a Los Angeles based art critic, the painting juried in was " Behind the Yellow Door" which was one of 79 chosen out of 1,093 entries.
" 36th Annual Wallowa Valley Festival of Arts" Annual juried art festival at Josephy Art Center Joseph Oregon.
"Gateway to Imagination" - National juried art competition held at Farmington Art Museum in Farmington, N.M.
"Expressions West 2019" ( April 2019 ) - Regional juried art exhibition held at the Coos Bay Art Museum in Coos Bay Oregon. Juried by Geoffrey McCormack a Eugene Oregon artist who has won acclaim for both sculpture and painting at a National and International level. Selected work: " A Time of Dark Invitations".
"Artworks NW 2019" ( May 2019) - Regional juried art exhibition held at Hallie Brown Ford Gallery in Roseburg, Oregon. Juror Danielle Knapp is the McCosh Curator at the Jordan Schnitzer Museum of Art at the University of Oregon in Eugene, Oregon.Selected work " Field Effects series No. 24".
"NeoPop series No. 6 - Marilyn", was an award winner in the May 2019 BoldBrush Painting competition. "NeoPop series No. 6 - Marilyn" was awarded the honor Outstanding Digital by BoldBrush Jury.