Informed Collector Recommends:
Sigridur Huld Ingvarsdottir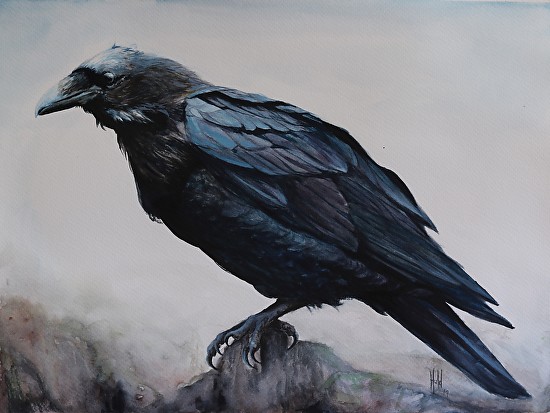 Watercolor 30cm x 40cm
Young Raven by Sigridur Huld Ingvarsdottir was awarded Outstanding Watercolor in the May 2019 BoldBrush Painting Competition.
Biography
Sigríður Huld Ingvarsdóttir originates from the northern part of Iceland, where she grew up on a sheep farm. Her work is highly influenced by her past, the Icelandic nature, the myths, the Icelandic horse, and sheep.
For the past years she has focused on painting portraits, horses and other animals. Her artwork portrays strong women using the Icelandic landscape, animals and the Nordic cold light and solitude, to create a mythical environment.
She graduated from Akureyri School of Visual Arts in 2011 and a year later moved to Sweden to study painting and drawing from life at The Swedish Academy of Realist Art, which was previously located in Stockholm but is now in Simrishamn. She graduated in 2015 and has since lived and worked in Uppsala, Sweden. She has been part of many group exhibitions as well as solo-exhibitions, in Iceland and Sweden and is a member of SIM The Association of Icelandic Artists and Kro Swedish Artists' Association.

Artist Statement
"I want people to look at my art and forget about the troubles of the world for a little while. To just look at something beautiful and be inspired.

For the past years I have done portraits of women and animals seeking inspiration from my roots: the nature, cold light of the north and the animals. I want the viewer to go into the painting and wonder what lies beyond the horizon, feel the warmth of the sheepskin, hear the horse's breath. It is almost as if the viewer can reach into the painting and stroke the horse. Each painting has a little story behind it. Every person and animal mean something. They are both my memories and dreams.
I create portraits of animals and I feel it's important to capture the likeness and spirit of them just as one would in a portrait of an human being."
Learn More About Sigridur Huld Ingvarsdottir