Informed Collector Recommends:
Steven Hileman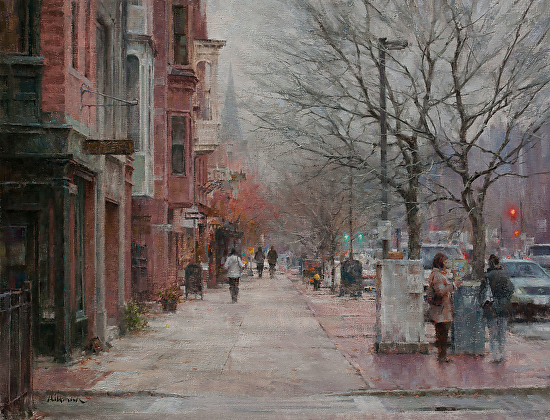 Oil 14" x 18"
Tremont Street Boston by Steven Hileman was awarded 1st Place in the May 2019 BoldBrush Painting Competition.
Biography
Through his paintings, Steven Hileman desires to share his personal vision of God's creation.

Art has been an important factor throughout Steven's life. Growing up in Hollidaysburg, Pennsylvania, Steven spent countless hours developing his skills through personal study and his various art classes. At Pensacola Christian College in Pensacola, Florida, Steven studied under accomplished artists who grounded him in the basic principles of art and encouraged him to pursue excellence through knowledge and discipline. After earning his degree in Communications with a concentration in Commercial Art, Steven spent three years as a staff illustrator for A Beka Books, Inc., a large publishing company in Pensacola. On his own time, Steven continued to develop his painting skills, and also began exhibiting his paintings in juried shows around the country. Leaving his illustration job behind, Steven and his family relocated to Maine, where he began pursuing painting full-time. Shortly following this transition, Steven's paintings began receiving more recognition through various galleries and shows, and today, they continue to draw the attention of art lovers and collectors. Consequently, his paintings can be found in numerous private collections around the country.

Considering himself a realist with impressionistic influences, Steven paints directly from his own life experiences, attempting to capture with honesty and immediacy his impressions of the world around him. Influenced by many of the great American, Russian, and European masters of the past as well as various contemporary masters, Steven paints with careful attention to drawing, values, color, and edges. He constantly strives to capture the subtle relationships between these elements to create beautiful and meaningful works of art.
Steven is currently represented by Argosy Gallery in Bar Harbor, Maine. His paintings have also been selected for various juried exhibitions around the country, including Arts for the Parks Top 100, Jackson Hole, Wyoming (2004, 2005); Salon International, San Antonio, Texas (2002, 2003, 2007, 2008); Impressions of New England, Bennington, Vermont (2001-2009), and Paint the Parks Top 100(2008, 2009).
Learn More About Steven Hileman