Informed Collector Recommends:
Brenda Stichter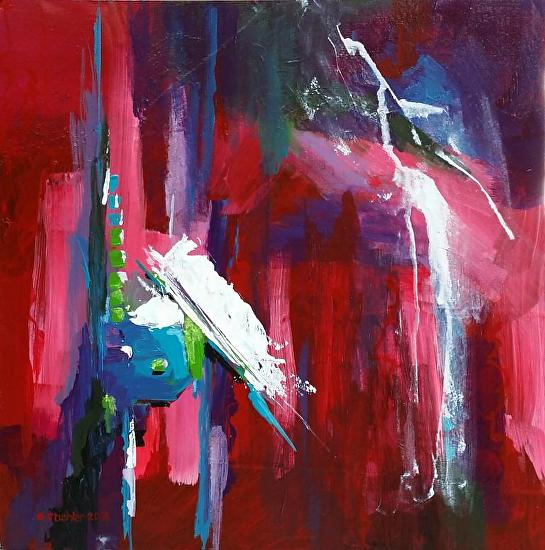 Acrylic 10 x 10
I Will Arise by Brenda Stichter was awarded The BoldBrush Award for Abstract in the May 2019 BoldBrush Painting Competition.
Biography
My Loves are the things that call me to paint. I want to share the delight I find in these Loves through my paintings.
My first Love, and the one to Whom I owe my everything, is Jesus Christ. He loves me although He knows every failing and weakness, and He gives me the guts to press on. He is my absolute foundation and He fills me with delight!
Love number two is my husband, Bruce. He is my encourager, my art-enabler, and my best friend!
Next Love would be my adult kids. One is my kindred soul as an artist (he is a musician) and the other fills my days with sparkle and reminds this introvert that "people-ing is good".
I love chocolate and good coffee.
I love most kinds of music.
I love the ocean. Or any big water.
I love the woods, outdoor walks, sunrises and clouds.

Somewhere down the line comes my love of art, itself. I love that I get to spend days doing art! I love looking at and studying art. I can be kept awake at night by a beautiful painting! I love learning new principles, concepts, techniques, and so on. I have a studio full of tools and paints and I love to experiment and watch what happens when I try… anything!

Brenda Stichter was trained in Commercial Art at the University of Northwestern, St. Paul, but has been "painting seriously" for the last several years since she and her husband became empty-nesters. She considers herself an emerging artist, with success in local and regional venues. Her acrylic paintings are mostly abstracts or abstracted landscapes. She portrays her response to beauty, culture, and Scripture passages or principles in her work. Occasionally, she will also paint representational or experimental work. She has participated in local, state, and national exhibitions and contests, and is currently teaching, studying, and painting regularly in the pursuit of excellence in her work. She works in a studio in her home near Warsaw, IN. She is a member of the Lakeland Art Association, Warsaw, IN; the Fort Wayne Artists Guild, Ft. Wayne, IN; Christians in the Visual Arts; and a 2016 and 2019 Hoosier Woman Artist.

Artist's statement:
Choosing to use abstract painting as a language, I convey the life, joy, and freedom which I have found in Jesus Christ. Though sorrow and darkness are part of every life, my desire is to show that there is great hope in Him.
My painting is successful when it draws attention at a distance, and is even more interesting under closer scrutiny. Color communicates through subconscious connections, and I use it to draw the viewer and provoke emotion. Composition choices are my starting points for expressing the foundational concepts of the work. Layers and texture suggest complexity and depth of experience.
An experimental painter, I paint with acrylic paint and mediums, natural additives such as mica and sand, and sometimes gold leaf or other substances. Brushes, kitchen tools, fingers, plastic cards, and many other things are part of my tool kit.
Learn More About Brenda Stichter