Informed Collector Recommends:
Diane Reeves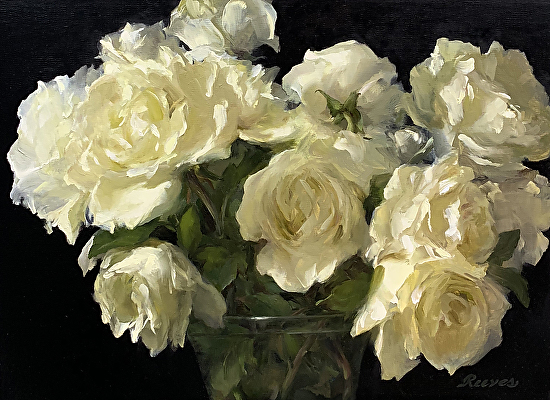 Oil 12 x 16
Pure Poetry by Diane Reeves was selected as a Finalist in the April 2019 BoldBrush Painting Competition.
Biography
Without a doubt, Diane Reeves' passion for art was triggered the pivotal summer she traveled throughout Europe with her aunt. She was a teen when they roamed the Louvre and other museums, where the art and architecture simply took her breath away. They wandered through charming towns and even stayed five days at a gorgeous chateau, and the direct exposure to these new cultures and masterpieces of art and architecture kindled in Diane an abiding love for the arts, especially painting and drawing. It would be a long journey before she changed direction in order to pursue a career as a professional artist, yet nonetheless, a deep rooted desire had definitely been established.
Fast forward to 2007, Diane took her very first painting workshop with a much beloved and renowned portrait artist who told her, "All you need is mileage behind the brush!" This gave Diane the spark of encouragement that propelled her forward, and for the next few years, even though she worked full time in a completely different career, she focused on strengthening her painting and drawing skills by squeezing practice into every spare moment and by attending several workshops. Then, in 2012, she became a full time professional artist, and soon began receiving top awards at local, regional and national exhibitions, and started selling work to collectors in America and abroad.
Diane has a unique style, combining confidence in execution with fresh luminosity, and it's clear she enjoys featuring rich color harmonies and the varied effects of light in her portraits, still life works, landscapes and florals. For the last three years, Diane focused on creating luminous floral still life pieces, featuring a wide assortment of flowers, in both still life and outdoor settings. She has now returned to painting other subjects, and is especially excited to be creating portrait and landscape pieces - though she'll always continue her floral and still life work, too.
Although Diane enjoys spending the majority of her time creating in her studio, usually working on three or four new pieces at varying stages of development, she is also a popular workshop instructor, offering color mixing and floral workshops around the country, and teaching one day each week at the Boca Raton Museum Art School, in Boca Raton, Florida.
Artist Statement
"Whether I'm painting or simply moving through the day, I'm always enthralled with the way light falls across any subject, and by the natural beauty that can be found all around us. Painting is my means of capturing some of that light and beauty and sharing it with others. So, as I work on a landscape, a portrait or a still life, my intention is to express what has intrigued me, what drew me in, what made my heart beat faster - and offer others the chance to experience it, too. Right now, our shared humanity, our mutual awe for the splendors of creation, and our appreciation for all the countless little joys in our lives are some of the themes of my work, but ultimately it's the capturing of beauty and a connection with others that are my hope - they are the reason I paint."
Organizations: Oil Painters of America, Portrait Society of America, Cecelia Beaux Forum, American Women Artists (Associate with Distinction), National Oil and Acrylic Painters' Society (Signature Member), and Artists' Guild of Boca Raton. Her work has won awards in national and regional exhibitions, and been featured in International Artist Magazine, American Art Collector, Southwest Art and Travel Host magazines. Diane resides with her husband, David, in Boca Raton, Florida, and her collectors are throughout the US and abroad.
Select Honors and Awards
2019
Finalist Award - BoldBrush April 2019 Painting Competition
Finalist - National Oil and Acrylic Society, Spring International Online Exhibition
Finalist and Feature Article - International Artist Magazine, Art Prize Challenge: Floral and Gardens Competition
Finalist - National Oil and Acrylic Painters Society, Best of America Small Works Juried Exhibition
2018
Best Still Life Award - National Oil and Acrylic Painters' Society, 2018 Best of America Small Works Juried Exhibition
Finalist - Oil Painters of America 2018 Salon Show and Juried Exhibition
Finalist - Portrait Society of America, Category: Outside the Box
2017
Five by Five Exhibition, Exhibiting Artist, Boca Raton Museum of Art, Boca Raton, Florida
Third Place - American Women Artists Spring Online National Juried Show
Finalist - National Oil & Acrylic Painters' Society, Best of America Exhibition
Finalist - National Oil & Acrylic Painters' Society, Spring International Online Exhibition
Finalist - Plein Air Salon
Feature Article, The New York Optimist Magazine (August)
2016
Finalist - Oil Painters of America, Juried Salon Show of Traditional Oils
Finalist - Plein Air Salon
2015
Finalist - Oil Painters of America, Eastern Regional Juried Exhibition
Finalist - Oil Painters of America, Juried Salon Show of Traditional Oils
Finalist - Oil Painters of America, 24th Annual Juried Exhibition of Traditional Oils
Award of Excellence - 2015 National Oil & Acrylic Painters' Society, Best of America Exhibition
Finalist - National Oil & Acrylic Painters' Society International Spring Online Exhibition
Southwest Art magazine, Editor's Page and featured in article, December issue
American Art Collector magazine, Artist Focus, "Captivating Light," December issue