Informed Collector Recommends:
Jane Hunt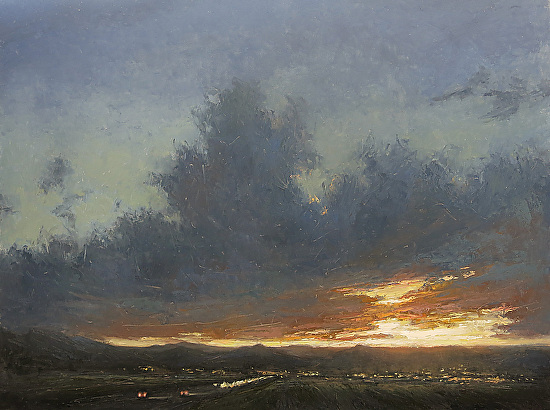 Oil 18 x 24
Headed Home by Jane Hunt was selected as a Finalist in the April 2019 BoldBrush Painting Competition.
Biography
Following her move from England to the US as a teenager, Jane Hunt received her B.F.A. in illustration from the Cleveland Institute of Art.
After working as an illustrator for several years Hunt eventually returned to her true love: landscape oil painting. A sought after instructor, Hunt will again be a faculty member of the Plein Air Convention and a demo artist/speaker at the Oil painters of America National Exhibition.
"Even though I paint a lot of studies on location, my landscapes are actually less about describing a specific place than they are about the feelings evoked. With an impressionistic, tonal approach, I hope to convey the emotional connection that I had with each scene. Moving cross-Atlantic three times in my early years, I spent much of my life with an underlying sense of homesickness. This yearning propelled me to create a sense of 'home' within my landscapes. My greatest hope is that my work gives its viewers this same sense of comfort and connectedness; a gentle place to rest."
Hunt's paintings have been featured in Fine Art Connoisseur, Southwest Art, Art of the West, Mountain Living, Luxe, and Plein Air Magazine.
Her award winning paintings have been exhibited at notable galleries and museums internationally.
Now based in Colorado, she frequently paints plein air, and continues to be awed by the beauty surrounding her.

Hunt's work is represented by galleries in the US, as well as her native England.
Master Signature Member: PAPNM Signature Member: AWA, WAOW, PAAC, OPS & LPAPA.
Artist Member: Salmagundi Club and the California Art Club.
Selected Exhibitions
2021
Solo Exhibition, Salmagundi Club, New York, NY
2019
Art Renewal Center Salon Traveling Exhibit, Meam Museum, Barcelona, Spain
American Women Artists National Exhibition, Steamboat Art Museum
Abend Gallery, Landscape Show, Denver, CO
Salmagundi Club Annual Juried Exhibition, New York, NY
Oil Painters of America National Exhibition, Illume Gallery, St. George, UT
108th Annual Gold Medal Exhibition, Pasadena Museum of California Art
Best of Plein Air, Forest and Ocean Gallery, Laguna Beach, CA
Turner Gallery, Small Works Show, Jackson, WY
Town and Country, Forest and Ocean Gallery, Laguna Beach, CA
Lighthouse Plein Air Invitational, FL
Laguna Beach Plein Air Invitational, CA
InSight Gallery, Fall Gallery Showcase, Fredericksburg, TX
Teaching and exhibition, Provence, France
2018
American Impressionist Society, 19th Annual Exhibition, Peninsula School of Art, Door County, WI
PAPNM Masters Show, Taos Art Museum at Fechin House, Taos, NM
Beaux Arts Gala, Scottsdale Artists' School, Scottsdale, AZ
Art That Inspires Exhibition, Turner Fine Art, Jackson Hole, Wyoming
Oil Painters of America Western Regional Exhibition, Mary Williams Fine Arts, Boulder, CO
American Women Artists National Exhibition, Haggin Museum, Stockton, CA
Women Artists of the West Tallgrass Rendezvous 48th National Exhibition, Bartlesville, OK
Plein Air Artists of Colorado 22nd National Exhibition, Sorrel Sky Gallery, Durango, CO
Oil Painter's of America Salon Show, Crooked Tree Arts Center, Petosky, MI
Salmagundi Club Annual Exhibition, New York, NY
Salmagundi Club Auction, New York, NY
Oil Painters of America 26th Annual National Exhibition, Steamboat Art Museum, Steamboat, CO
The 28th Annual Colorado Governor's Invitational, Loveland Museum, Loveland, CO
American Impressionist Society Small Works Show, Cincinnatti, OH
Cleveland Institute of Art Alumni Exhibition, Cleveland, OH
The Salmagundi Club Landscape Show, New York, NY
Door County Plein Air Invitational, Door County, WI
Where in the World is Plein Air, Illume Gallery, Utah
New Visions Show, Authentique Gallery, St. George, Utah
Faculty artist at the Plein Air Convention, San Diego, California
2017
The Salmagundi Club Landscape Show
Dusk until Dawn, Irvine Museum Exhibition, Irvine, California
Abend Gallery, Minatures Show
Small Works Show, Howard Mandville Gallery, Kirkland, Washington
Laguna Plein Air Painter Invitational, Laguna Beach, California
Plein Air Artists of New Mexico, Sorrel Sky Gallery, Santa Fe, New Mexico
American Women Artists, Tucson Desert Art Museum, Tucson, Arizona
Door County Plein Air Invitational, Fish Creek, Wisconsin
Best of Plein Air, Forest and Ocean Gallery, Laguna, California
Solo show, Mary Williams Fine Arts, Boulder, Colorado
Colorado Governor's Invitational, Loveland Museum, Loveland, Colorado
Plein Air Artists of Colorado National Show, Mary Williams Fine Arts, Boulder, Colorado
Where in the World is Plein Air, Illume Gallery, Utah
Southwest Salon, Southwest Gallery, Dallas, Texas
New Visions Show, Authentique Gallery, St. George, Utah
Wanderlust Group Exhibition, Howard Mandville Gallery, Kirkland, Washington
Speaker/Demonstrating artist at the Oil Painters of America national Show
Faculty artist at the Plein Air Convention, San Diego, California
2016
Women Artists of the West, Forty Sixth Annual National Exhibition
American Impressionist Society, Howard Mandville Gallery, Seattle, Washington
Laguna Beach Plein Air Invitational
Plein Air Rockies, Estes Park, Colorado
Plein Air Artists of Colorado, Mary Williams Fine Arts, Boulder, Colorado
Where in the World is Plein Air, Illume Gallery, Utah
American Women Artists Spring Showcase
Faculty demo artist at the Plein Air Convention, Tucson, Arizona
New Visions Show, Authentique Gallery, St. George, Utah
Landscape Show, Abend Gallery, Denver, Colorado
2015
Oil Painters of America Salon Show, Beverly McNeil Gallery, Tenessee
Group Show, Lilford Gallery, Kent, England
Miniatures and More, The Albuquerque Museum, Albuquerque, New Mexico
Women Artists of the West, Tucson Desert Art Museum, Tucson, Arizona
PAPNM annual show, Santa Fe Art Collector Gallery, Santa Fe, New Mexico
Urban Life Show, Abend Gallery, Denver, Colorado
Plein Air Artists of Colorado, Boulder, Colorado
Where in the World is Plein Air, Mission Gallery, Utah
Art for Life, Abend Gallery, Denver, Colorado
Western Spirit Show, Old West Museum, Cheyenne, Wyoming
Southwest Salon, Southwest Gallery, Dallas, Texas
Featured Artist, Landscape Show, Abend Gallery, Denver, Colorado
Awards
2019
Best of Show, Gateway International Art Competition
Honorable Mention, Annual Plein Air Salon
Finalist, Art Renewal Center
Award of Excellence, NOAPS International Competition
Finalist, Boldbrush Competition
Best Plein Air, Plein Air Salon
Best Boat, Lighthouse Plein Air
Honorable Mention, Oil Painters of America Fall Showcase
Best Nocturne, Plein Air Salon
Finalist, Gateway International Art Competition
2018
President's Award, Oil Painters of America National Exhibition
Outstanding Oil Award, Women Artists of the West National Exhibition
Honorable Mention Paintout, American Impressionist Society National Exhibition
Landscape Award of Excellence, Oil Painters of America Western Regional
Finalist, Artist's Magazine 35th Annual Competition
2nd Place, Oil Painters of America Summer Showcase
Salmagundi Club, Joseph Hartley SCNY Award
Honorable Mention, ARC Salon
Artist's Choice, Gateway Art Competition
Finalist, Gateway Art Competition
3rd Place, Oil Painters of America Spring Showcase
Finalist, International ARC Salon Competition
2017
1st Place, Door County Plein Air Festival
Artist's Choice Award, Gateway International Art Competition
Finalist, Boldbrush Painting Competition
Fine Art Connoisseur Award, Laguna Plein Air Invitational
Best Nocturne, Plein Air Salon
Top 100, Artistic Excellence, Southwest Art Magazine
Winner - Cloud Competition, Plein Air Painters New Mexico
Artists Choice, Gateway International Painting Competition
Art Muse, Master Class Finalist
2016
Director's Choice Award, Laguna Beach Plein Air Invitational
Award of Excellence, Outdoor Painters Society Associate Show
Winner, Summer Nights Contest, Plein Air Artists of New Mexico
Honorable Mention, Artistic Excellence Competition, Southwest Art Magazine
3rd Place, American Impressionist Society Paintout
Artist's Choice Award, Plein Air Artists of Colorado National Show
2nd Place, Plein Air Artists of Colorado National Show
Finalist, Art Renewal Center Salon
Master Class Finalist, Art Muse Competition
Finalist, American Women Artists Spring Showcase
3rd Place, Boldbrush Painting Competition
2015
Best Landscape, Women Artists of the West Annual Show
Award of Merit, Women Artists of the West Annual Show
Finalist, The Artist's Magazine 32nd Annual Art Competition